Foodblogger, Main courses
Not fried courgette balls with mozzarella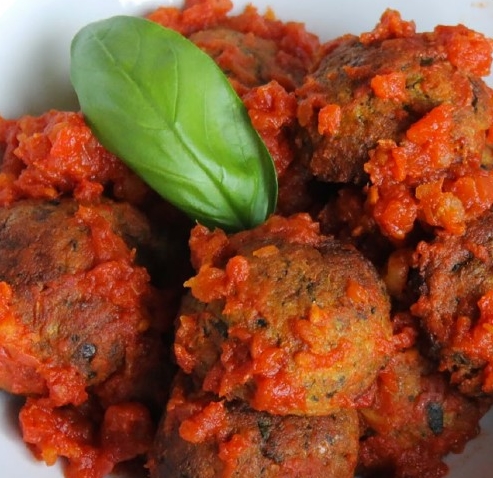 Ingredients
500g courgette
1 onion
1 garlic wedge
1 egg
100g  grated cheese
50g  breadcrumbs
7 basil leaves
4 chive strands
salt
chili pepper
a pinch of sweet paprika
1 fresh mozzarella
300g tomato pulp
2 tablespoons Balsamic Vinegar of Modena PGI
oil to taste
Preparation
Wash the courgettes and peel them leaving stripes of the skin, then cut them in thin julienne, using the slicer, if you want. Chop finely also the onion and garlic. Place everything in a non-stick pan without addition of fat or liquids, but only a pinch of salt. Sweat the vegetable on low heat until the liquid has evaporated. It takes about 20 minutes and you will know when they are ready as they will greatly reduce in volume.
Let everything cool, then place in a large bowl and add the egg, cheese, breadcrumbs, salt and chili pepper, chopped basil and chive. Mix thoroughly until soft yet compact. If needed, add more cheese and breadcrumbs. Let rest in the refrigerator, covered, for half an hour.
Slice the fresh mozzarella in chunks.
Take a spoonful of the prepared mixture and make a ball with a chunk of mozzarella in the middle. As you roll them in your hands, make sure that the balls are tightly shaped, then place on a baking sheet. Continue until everything is used up.
If you like, add a dribble of oil on the balls, though it is not necessary as the balls will turn out soft anyway.
Bake the courgette balls in a hot oven at 200°C until coloured; it will take about 20 minutes, depending on the type of oven used.
Heat up the tomato pulp in a non-stick pan, add salt and pepper, a fresh basil leaf and a pinch of sugar. Add 2 tablespoons of Balsamic Vinegar of Modena PGI and leave it on to flavour, then add in the balls for 5 more minutes.
Serve hot or at room temperature, and dust with grated cheese, as desired.
These courgette balls are very tasty just baked in the over instead of sautéing in a pan with the tomato.