Light recipes, Starters
Soft cheese, salami and fig pies with Balsamic Vinegar of Modena PGI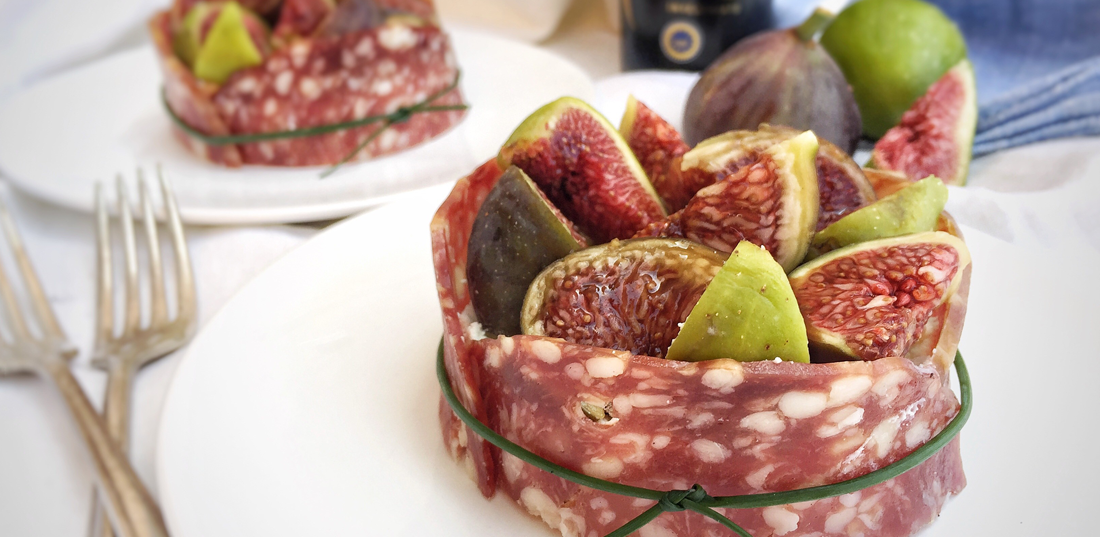 Ingredients (for 4 servings)
8 fresh figs, green and black
200g fresh soft cheese
6 slices of large sized salami
Italian extra virgin olive oil
salt
pepper
Aged Balsamic Vinegar of Modena PGI
Preparation
On a serving dish, arrange the slices of salamis cut in half in a radial pattern along the inner edge of 4 pastry cutters with a diameter of 10/12 cm. Mix the soft cheese with a bit of extra virgin olive oil, salt and pepper and fill the pastry cutters. Garnish each pie with figs cut in wedges and complete by sprinkling the surface with a spoonful of aged Balsamic Vinegar of Modena PGI.
In general, September is the month when one feels the need of regaining fitness after the summer holidays.
A quick recipe with few ingredients, including the last figs in season, which are rich in vitamins and mineral salts, and have laxative and anti-inflammatory properties.
Notoriously sweet, figs actually contain 47 kcal per 100g, an amount that is lower than the one of grapes and pears (which contain more than 70 kcal per 100g).
In addition to potassium, iron and calcium, figs are also rich in vitamin B6: three figs contain 0.18mg of this vitamin, which accounts for 9% of the daily recommended intake; they are also rich in vitamins A, B1, B2, PP, C.
A cure-all for mood and fitness, figs turn into a tasty dish that is ideal for the lunch break combining the sweetness of figs, with the sapidity of fresh cheese and a tasting of salami, all this flavoured by aged Balsamic Vinegar of Modena PGI that will give a special touch to the dish with only about 250 kcal per serving.