Starters
Tartlets with goat ricotta cheese and caramelised Borettana Onions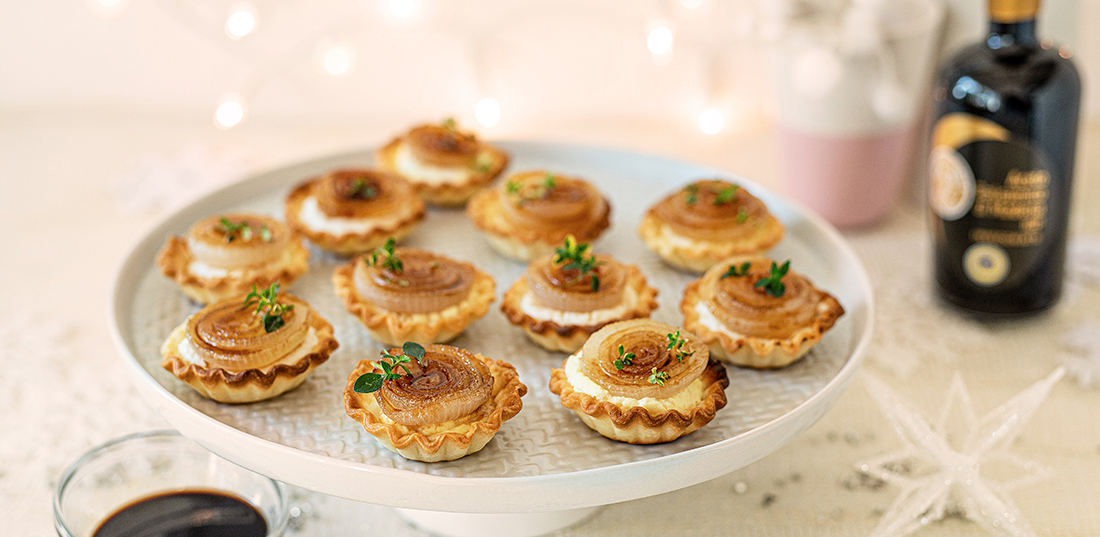 Ingredients for 12-15 tartlets
1 pack of pate brisée
8 fairly large Borettana onions
100g soft goat cheese
60ml liquid cream
1 egg
fresh oregano
40g butter
20g cane sugar
Aged Balsamic Vinegar of Modena PGI
Preparation
Peel the onions, cut them in half horizontally.
Spread knobs of butter on a small baking tin, sprinkle with cane sugar and arrange the half onions with the cut-side down. Dampen with 2-3 spoons of water, cover with an aluminium foil and put in the oven at 180°C for 15 minutes. Onions should be soft, but not mushy.
Remove the aluminium foil, dribble some Balsamic Vinegar of Modena PGI on the onions and put back in the oven for 5 minutes so that they caramelise a bit.
In a bowl mix the goat cheese with egg and cream. Flavour with salt, pepper and some thyme leaves.
Cover tartlet moulds with the pate brisée leaving en edge of 1.5cm.
Top with the goat cheese cream and bake at 180°C for 15 minutes.
Once baked, finish the tartlets topping them with a half caramelised onion and some leaves of fresh oregano, then serve.