Light recipes, Main courses
Avocado filled with fruit and vegetables topped with drops of Balsamic Vinegar of Modena PGI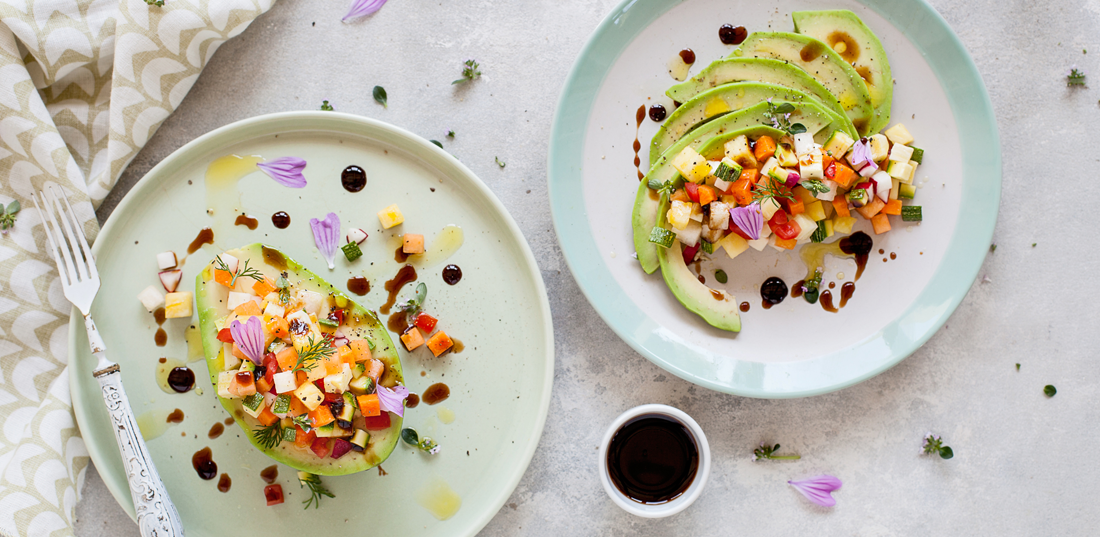 Ingredients
2 rape avocados
250 g pineapple flesh, melon and pear
250 g vegetables:  fennel, carrots, zucchini and radishes
5-6 datterino tomatoes
1 small sprig fresh mind
1 small piece of ginger
1 lime
salt
white pepper
Balsamic Vinegar of Modena PGI
Extra virgin olive oil
Edible flowers or sprouts, as you like
Preparation
Preparation: 20 minutes
Category: Easy
Dice the fruit in a bowl, make sure to make even size dices. Cut fennel, carrots, zucchini and radishes of the same size as the fruit.
Slice the tomatoes in half, remove the inside seeds and cut the pulp in dices.
Mix all together, add salt and pepper.
Peal and grate the ginger, squeeze the flesh to obtain its juice and add set aside in a cup. Add lemon juice, two spoons of Balsamic Vinegar of Modena PGI and 4 spoons of oil. Mix for a few seconds with a hand held mixer. Dress the diced fruits and vegetables with the emulsion, add the mint leaves in small pieces and let marinate for 10 minutes.
Cut the avocados in half, remove the seed and spoon out the pulp with a small spoon. Blend the pulp and add it to the rest of the ingredients.
Stuff the avocados with the vegetables, dress with a few drops of Balsamic Vinegar of Modena PGI and, if you like, add the edible flowers or the sprouts.