Main courses
Cannelloni stuffed with ricotta cheese, spinach and mushrooms with diced pumpkin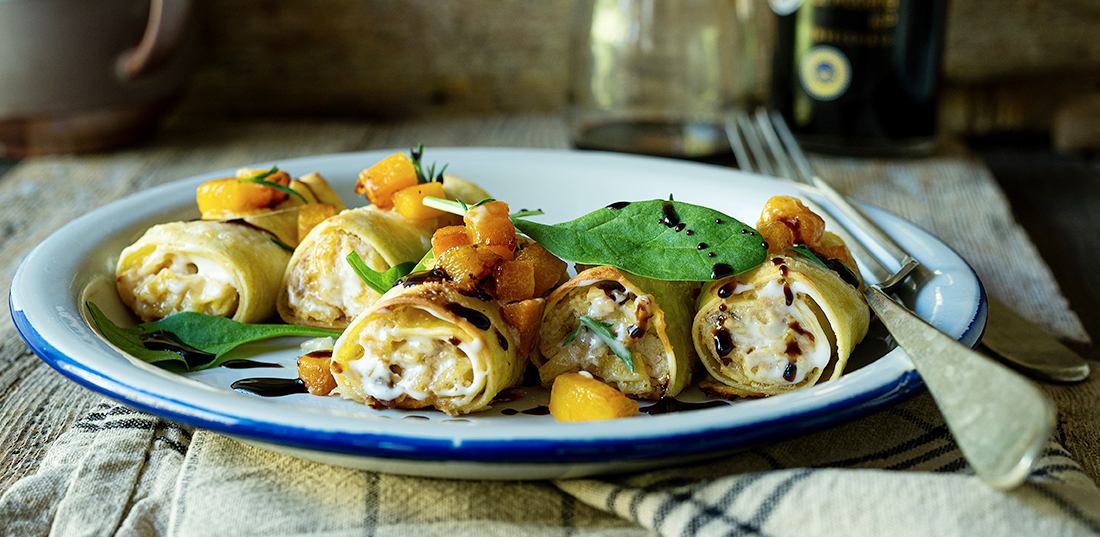 Ingredients for 4 servings
200g type "00" flour
2 medium-sized eggs
400g Ricotta cheese
60g Parmigiano Reggiano PDO
450g mixed mushrooms (champignons, pearl oyster mushrooms, poplar mushrooms, Porcini mushrooms, etc.)
400g pumpkin
100g baby spinach
500ml béchamel
butter as needed
Parmigiano Reggiano PDO as needed
Balsamic Vinegar of Modena PGI
Preparation
Mix the flour with the eggs and a pinch of salt to obtain an even mixture. Cover with film and leave to rest for 30 minutes in the refrigerator. Clean the mushrooms, slice them and sauté with olive oil and garlic for 7-8 minutes. Chop coarsely and allow them to cool.
In a bowl, mix the ricotta cheese with half Parmigiano Reggiano PDO, add the baby spinach cut into strips and the mushrooms. Add a spoon of béchamel, adjust the salt and pepper. Peel the pumpkin and remove the seeds, cut the flesh into dices and sauté them with oil and salt for some minutes. Add a ladleful of water and cook until the pumpkin dices are soft, but not mushy. Roll out the pasta into thin strips on a slightly floured board.
Cook the strips of pasta in salted boiling water for 2-4 minutes according to the thickness, drain them and put on a dish towel to dry. Put the ricotta filling in a pastry bag with no tip. Lay the filling along the short side of the pasta strip, then roll the pasta to form a Cannellone.
Make all the Connelloni cutting them to the same size. Spread half of the béchamel on an oven-dish, lay the Cannelloni on the dish and top them with the remaining béchamel and the pumpkin dices. Sprinkle with Parmigiano Reggiano PDO and knobs of butter. Bake in the oven at 180°C for 15-20' until a thin crust is formed. Drizzle with Balsamic Vinegar of Modena PGI, some baby spinach leaves and serve.