Desserts
Caramelised orange cake with Balsamic Vinegar from Modena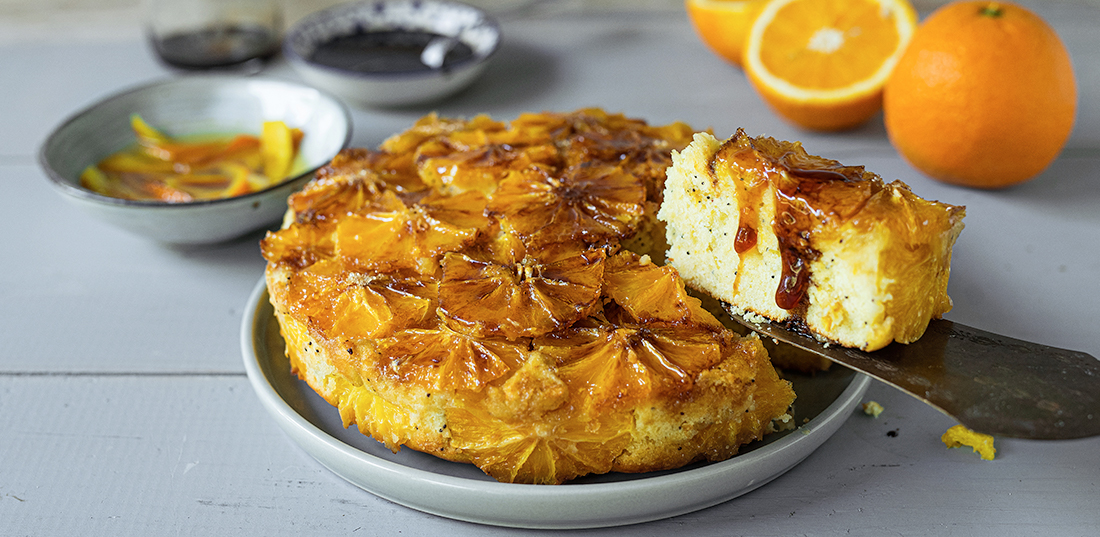 Ingredients
280g type "00" flour
120g sugar + 2 spoons
100ml milk
80g butter
2 medium-sized eggs
15g poppy seeds
½ teaspoon of baking powder
3-4 organic oranges
Balsamic Vinegar of Modena IGP to taste
for the syrup:
100g sugar
200ml water
Preparation
Cut the butter into small pieces, put it in a large bowl and leave to soften at room temperature. Add the sugar and mix with an electric beater. Add one egg at a time continuing beating.
Sieve the flour with the baking powder and add to the butter, alternating flour and milk.
Mix at low speed until all the ingredients are well incorporated. Lastly, add poppy seeds and grated orange zest.
Cover a springform pan having a diameter of 24/26cm with baking paper, sprinkle with two spoons of sugar and 2-3 spoons of Balsamic Vinegar of Modena PGI. Peel the oranges to the flesh (set aside some peel), slice them and arrange on the bottom of pan in a circular pattern.
Pour the mixture on top, make it even and bake in the oven for about 35-40 minutes at 180°.Sticking a toothpick into the centre of the cake, it should come out clean.
Allow the cake to cool, then turn it out upside down on a serving dish.
In a pot, put sugar and water. Eliminate the pith from some pieces of orange peel with the help of a sharp knife, wash the peel in warm water and add it to the pot.
Bring to the boil and cook for 10 minutes over low heat until syrupy. Use the syrup to moisten the cake.