Light recipes, Main courses
Chestnut soup flavoured with tangerine and Balsamic Vinegar of Modena PGI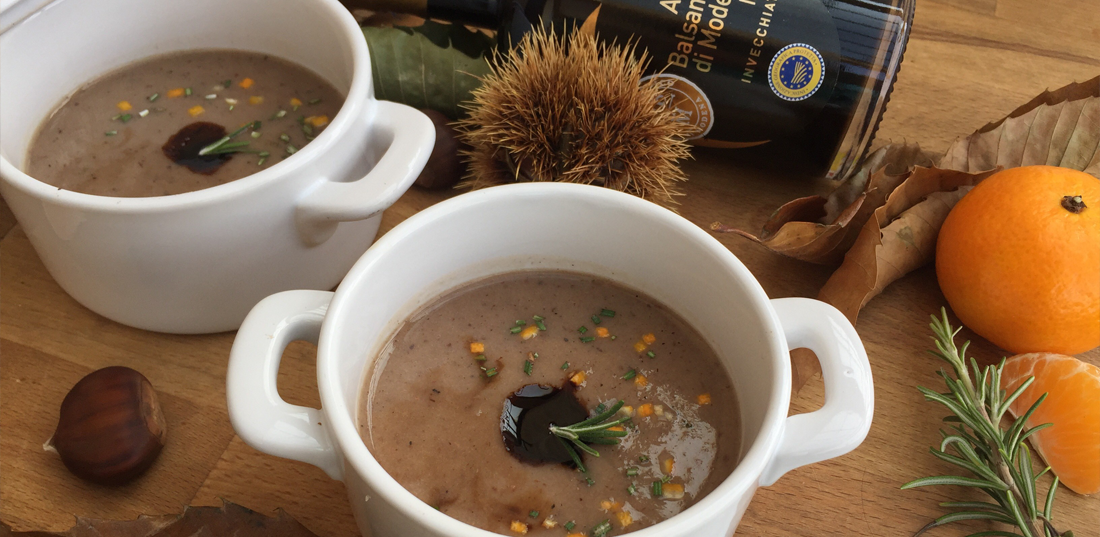 Ingredients
2 finely chopped shallots
400 g frozen shelled chestnuts, defrosted
1 l vegetable stock
salt
pepper
peel of an organic tangerine
rosemary
Italian extra virgin olive oil
Aged Balsamic Vinegar of Modena PGI
Preparation
Heat up 2 spoonfuls of oil in a casserole, add the shallots and some rosemary sprigs, then gently sautée without making them brown.  Add the chestnuts and once they are hot, add a tablespoon of Balsamic Vinegar of Modena PGI and allow to evaporate.   Heat up the stock, then add it to the soup and lower the heat.  Cover the casserole with a lid and cook for about 20 minutes.
Using a hand held mixer, reduce to a creamy texture. Finely chop some rosemary sprigs and the tangerine peel, then add them to the soup.
Adjust salt and pepper, then serve the soup in the individual dishes.
Complete the preparation with some drops of aged Balsamic Vinegar of Modena PGI.
Chestnuts do not contain gluten and can thus be eaten by people affected by coeliac disease.
They are highly digestible and are recommended in case of anaemia and lack of appetite.  Thanks to the high fibre content, chestnuts are very useful for good bowel function.
Since they are rich in minerals, they are particularly recommended for people affected by chronic fatigue, for regaining energy after flue, for kids and elderly people.  Thanks to the presence of vitamin B and phosphorous, chestnuts contribute to maintaining nervous system balance and, thanks to the presence of sugar, they can be an alternative for kids with milk intolerance.
They are rich in vitamin C, which has antioxidant properties that are very useful for body health. Vitamin C is very useful also for the formation of collagen that helps skin to be more elastic with fewer wrinkles and thus with a younger appearance.
Even though chestnuts have a higher calorie content compared to other fruit and vegetables, about 120 Kcal per 100 g, if they are not associated with other carbohydrates, such as for example bread and pasta, they will not be too challenging for your fitness. Indeed, associated with a good source of proteins, they are a complete and valid alternative to cereals. Serving chestnuts as a winter hot comfort food enriched with Balsamic Vinegar of Modena PGI will let you rediscover this often criticized fruit that contains less than 200 Kcal per serving. Enjoy your meal!