Starters
Crispy flat bread with asparagus, tomatoes and peanut hummus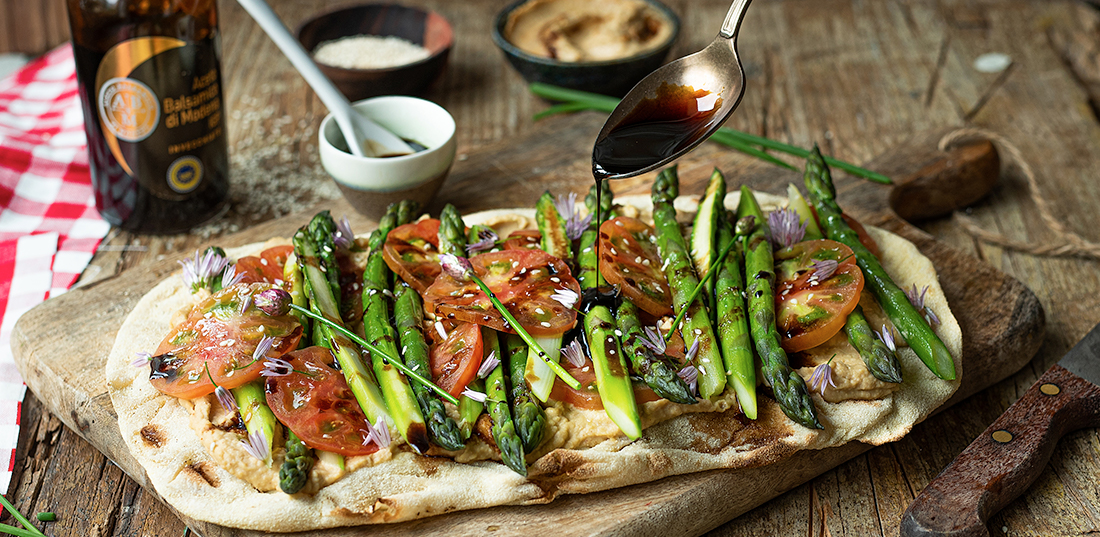 Ingredients for 4 servings
For the flat bread:
180g type "00" flour
80g water
2 tablespoons of olive oil
Salt
For the topping:
1 bunch of asparagus (about 350g)
3 ribbed tomatoes
200g boiled chickpeas
1 spoon of peanut cream (or 80g shelled peanuts)
Aged Balsamic Vinegar of Modena PGI
extra virgin olive oil
½ clove of garlic
rosemary or borage flowers (optional)
1 tablespoon sesame seeds
Preparation
Mix white flour with water, oil and a pinch of salt. Cover the dough with film and leave to rest for 30 minutes.
In the meantime, cut off the hard ends of asparagus.
Peel the asparagus stalks with a peeler and blanch them in salted water for 3-4 minutes. Drain them gently and arrange them on a baking tin brushed with olive oil.
Grill in the oven for 4-5 minutes.
Slice the tomatoes and season with salt, extra virgin olive oil and the Balsamic Vinegar of Modena PGI.
Blend the chickpeas with garlic, two spoons of Balsamic Vinegar of Modena PGI and two spoons of water to obtain a smooth cream, add the peanut butter and blend again for some seconds. Adjust the salt.
Flatten the dough to a thin rectangle and put it on a baking tin of about 20x30cm. Prick the surface with a fork, brush with olive oil and bake at 200°C for 8-10 minutes.
Allow the flat bread to cook slightly, then spread its surface with the chickpea and peanut hummus, then top with tomatoes and asparagus. Finish with the seasoning of the tomatoes, sesame seeds and borage or rosemary flowers.