Light recipes, Starters
Gazpacho of green vegetables and marinated tofu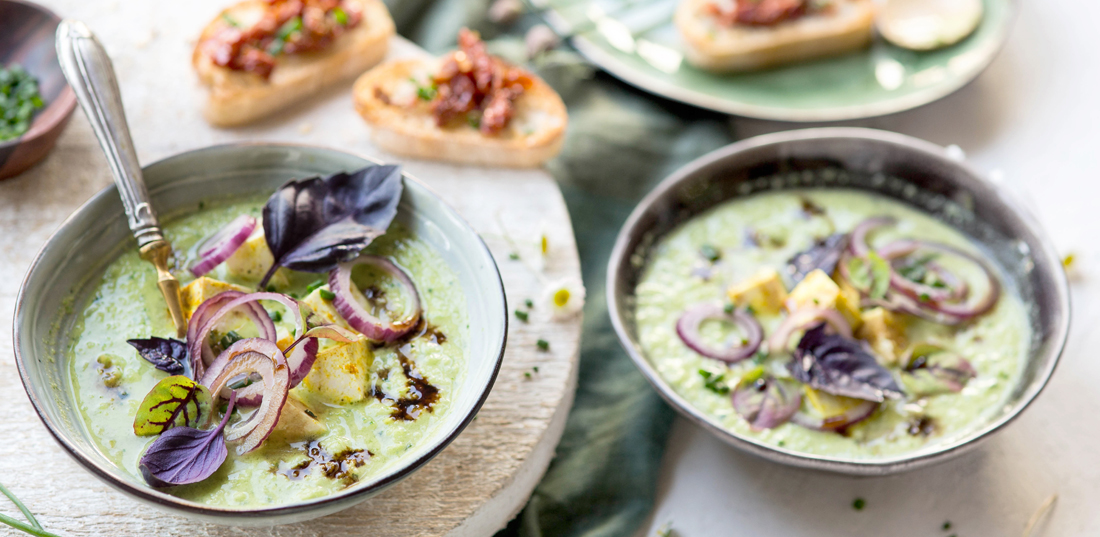 Ingredients for 4 servings
220 g green peppers
200 g green tomatoes
150 g cucumber
100 g arugula
100 g celery
1 red spring onion
2 slices of toast bread
150 g plain tofu
1 small bunch of parsley, red basil
extra virgin olive oil, salt
Balsamic Vinegar of Modena PGI
Preparation
Dice the tofu, boil it in lightly salted water for 5 minutes. Drain and marinate it with two spoonfuls of Balsamic Vinegar of Modena PGI.
Remove the seeds from the bell peppers, wash and dice them. Peel the cucumber and cut into pieces. Cut tomatoes and celery into pieces and break the arugula.
Douse the bread with some spoonfuls of wine vinegar.
Put the vegetables, bread and some parsley leaves in a blender, flavour with salt, some spoonfuls of oil and blend until smooth.
Serve the gazpacho with some dices of tofu, thin spring onion slices and red basil.
Douse with some drops of Balsamic Vinegar of Modena PGI.
Serve with bread bruschettas topped with dried tomatoes, extra virgin olive oil and fresh onion.