Cocktails, Signature Cocktails
Negroni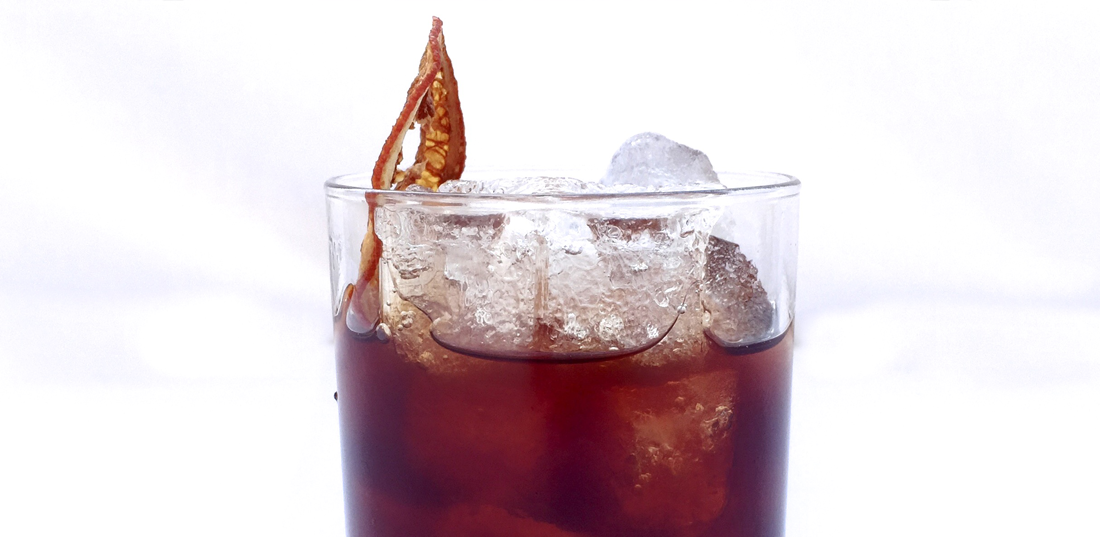 Balsamic Vinegar of Modena PGI is renowned worldwide. It is especially known for its flavour enhancing quality and the range of flavours. These unmistakable properties are the reasons why we embarked in this short journey of discovery of the flavour of Balsamic Vinegar in the universe of Cocktails. Six instalments where great classic cocktails will be "revisited" in the key of balsamic vinegar to check nuances, new sensations or just to confirm  classic perceptions.
My companion will be a dear friend, Marco Latini, a young and very good bartender from Perugia. We took off from one of the most important Italian cocktails, Negroni. A true legend in the glass, to which we added a precise quantity of Aged Balsamic Vinegar of Modena PGI. We tried many versions (and tasted them …), looking for the optimum taste, dosing quantities, changing Gin and Vermouth types. And at the end we managed to find the balance: a very aromatic and sweet scented Negroni, deep, spicy and harmonious in the mouth, where the Balsamic Vinegar of Modena PGI makes a strong entrance and calls in acidity and roundness, softening that bitter taste typical of cocktails.
Ingredients
Bitter Campari 2 cl
Red Vermouth 2 cl
London Dry Gin 2 cl
Aged Balsamic Vinegar of Modena PGI 1 tsp
Method: stir and strain – build over ice
Preparation
Since we started from Negroni, I had to call on the person who made this delightful drink a real reason for living: Luca Picchi, bartender at Rivoire café 1872 in Florence. Luca went as far as writing a very successful book on it ("Negroni cocktail" – Giunti Editore), which makes him probably one of the greatest Negroni experts in the world.
Negroni is to Luca a magical balance that revolves around Bitter Campari, the iconic center piece among the botanic components of the various types of gin and the "vinous" spices of Vermouth. Negroni evokes an aristocratic past, refined and always changing, multi-faceted, with infinite combinations, a peerless kaleidoscope of the senses.
Finally Luca talks about the Balsamic Vinegar: this is an interesting use of it, it can give the Cocktail an acidic, aromatic touch, an undoubtedly special thickness, but it can also be used to flavour a lime shell placed on the ice cubes with a thin slice of strawberry, lightly flambéed so as not to affect the taste balance of this classic drink.
Next episode: Americano.