Light recipes, Main courses
Risotto with pumpkin cream, Balsamic Vinegar of Modena PGI and hazelnuts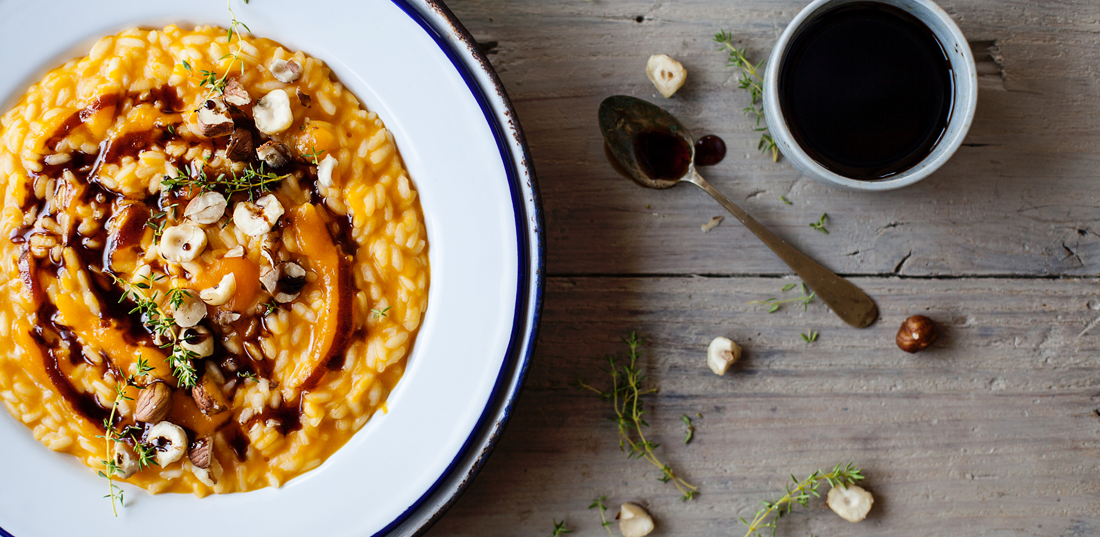 Ingredients for 4 servings
300 g Superfino Carnaroli rice
300 g pumpkin flesh
1 l vegetable stock
60 g toasted and peeled hazelnuts
Balsamic Vinegar of Modena PGI
30 g grated Parmigiano Reggiano cheese
30 g butter
20 g olive oil
¼ onion
salt, pepper, fresh thyme
Preparation
Preparation: 30 minutes
Category: Easy
Dice the pumpkin and cook it with a glass of water and a pinch of salt until soft. Blend it with a hand held mixer and put it aside.
Chop the onion finely, brown it with oil in a risotto casserole.
Add the rice and stir for some minutes until the rice is slightly toasted. Add hot stock to cover the rice.  Let the rice cook adding alternatively a spoon of pumpkin cream and a ladle of hot stock as soon as they are absorbed by the rice (this will take approximately 15-18 minutes).
Once cooked and off the heat, add butter and Parmigiano Reggiano cheese.
Serve with a sprinkle of chopped hazelnuts, drops of Balsamic Vinegar of Modena PGI and leaves of fresh thyme.