Light recipes, Starters
Tomato sandwich with octopus and vegetable sauce with Balsamic Vinegar of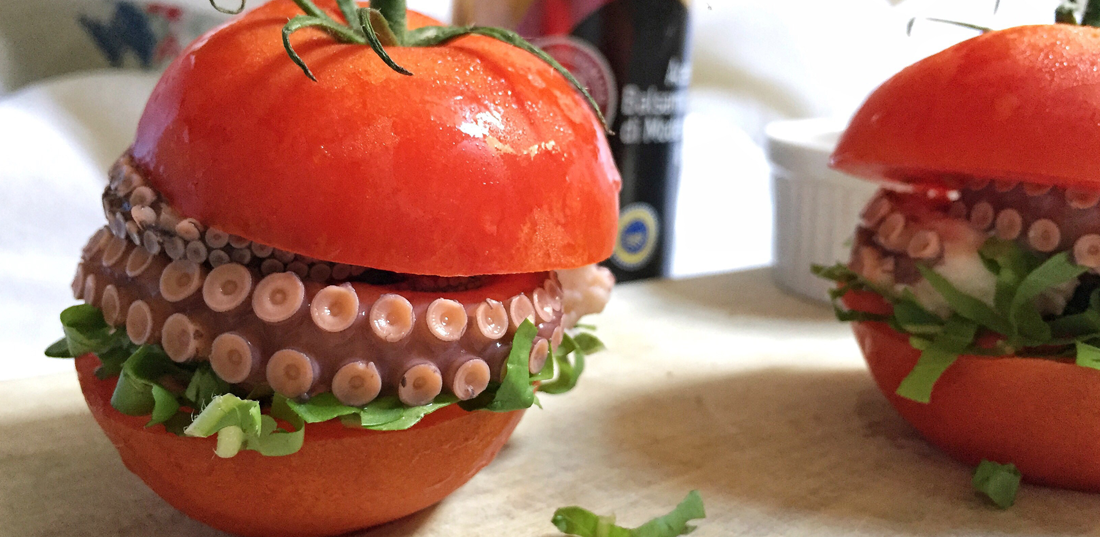 Ingredients
4 vine tomatoes
1 octopus (600/800g)
100g chicory julienne cut 1 carrot
1 shallot
Salt
Black peppercorn
Bay leaf
Balsamic Vinegar of Modena PGI
Italian extra virgin olive oil
Preparation
In a large pan, bring to the boil plenty of water with some peppercorns, a bay leaf, peeled carrot and shallot.
Clean the octopus washing it thoroughly under running water, eliminate guts, eyes and the central beak.
When water boils, put the octopus into the water holding it by the head.
Cover with a lid, wait for the water to boil again, then lower the heat to the minimum. The water should simmer throughout the cooking time.
Cook for 40 minutes with the lid on.
After this time, lift the octopus with tongs and pierce the tentacles with the prongs of a fork.  If the prongs enter easily, the octopus is cooked. If you have to push the fork through, continue cooking for another ten minutes. Once cooked, turn off the heat and leave the octopus to cool down in its cooking liquid: this will make it tender.
With the vegetables used to cook the octopus, prepare a sauce blending the carrot, the shallot, a pinch of salt, a spoonful of Balsamic Vinegar of Modena PGI and two spoonfuls of extra virgin olive oil, adding, if necessary, some cooking liquid.
Cut the tomatoes horizontally into two halves, put the chicory on the lower half, top with the octopus tentacles, add the Balsamic Vinegar sauce and top with the second half of the tomato to form a sort of sandwich.
Serve as a main course with green salad and a slice of bread: it is an excellent solution to endure the dog days of summer.
Highly appreciated for the absence of bones and easy  preparation, octopus is a tasty and nourishing mollusk with few calories, ideal also for slimming diets upon condition that it is not dressed with too much oil, as it often happens.
The use of a tasty vegetable sauce with Balsamic Vinegar of Modena PGI considerably reduces the need for other dressings.
A wholesome and simple recipe, nutritionally healthy and light that does not forget taste and colour.