Main courses
Tuna skewers with endive tzaziky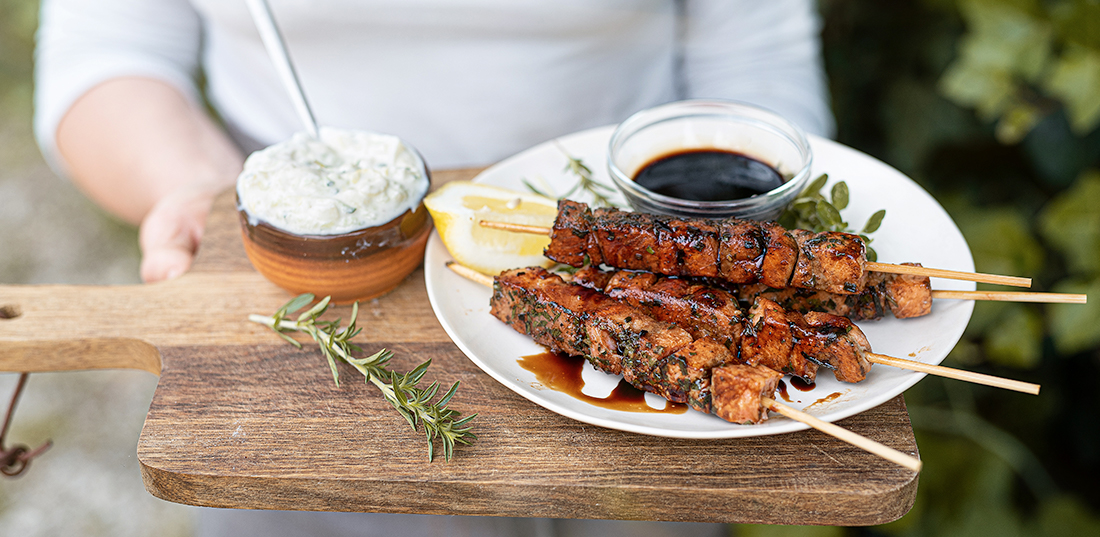 Ingredients for 4 servings
600g tuna fillet
Balsamic Vinegar of Modena PGI
Mixed herbs, chopped (chive, dill, thyme, parsley)
For the tzatziki sauce:
200g endive
100g cucumber
150g Greek yoghurt
2 tbsp lemon juice
1 small clove of garlic
salt and pepper
Preparation
Dice the tuna fillet into regular cubes of 1.5 cm.
Arrange them on a non-stick baking tin and sprinkle with the chopped herbs.
Wash and trim the cucumber, grate it using a grater with large holes, salt it and leave to rest for 10'.
Wash the endive, remove the core and cut into strips. Mix yoghurt and lemon juice, add the endive and the cucumber well wrung out from its liquid. Thinly chop the garlic and add it to the sauce. Season with salt and pepper.
Grill the skewers in the oven for 3-4 minutes, turn them, brush them with Balsamic Vinegar of Modena PGI and put in the oven again for 2-3 minutes.
Adjust salt and serve them with the sauce.