Main courses
Velouté of white kidney beans, summer vegetables and wild fennel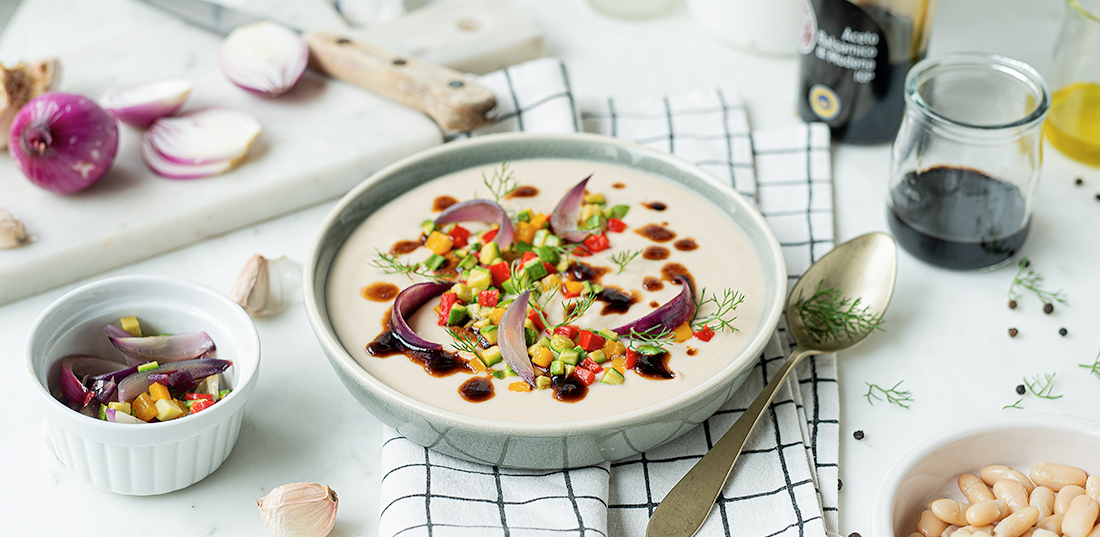 Ingredients for 4 servings
300g dry white kidney beans
100g white spring onions
150g courgettes
200g yellow bell peppers
1 red onion
1 sprig of wild fennel – basil
2 cloves of garlic
½ fresh chilli
Balsamic Vinegar of Modena PGI
Preparation
Rinse the white kidney beans, put them in a large bowl and cover in cold water. Leave to soak for 12 hours.
Slice the spring onions and sauté them in a dribble of oil, add the drained beans, flavour with a sprig of wild fennel, the chili and the clove of garlic. Add 2-3 spoons of Balsamic Vinegar of Modena PGI, allow to evaporate, then cover the beans with warm water.
Cook on low flame for 40 minutes and adjust salt once cooked. When the beans are soft, remove from the heat and blend them to a cream. Adjust flavour.Dice the courgettes and bell peppers. Cut the red onion into small segments.Sizzle the vegetables on high flame with oil and a pinch of salt.Flavour with a bit of Balsamic Vinegar of Modena PGI.
Serve the velouté warm topped with vegetables, a dribble of olive oil, leaves of fresh herbs to taste and drops of Balsamic Vinegar of Modena PGI.