Light recipes, Main courses
Zucchini Roulade with cherries and Balsamic Vinegar of Modena PGI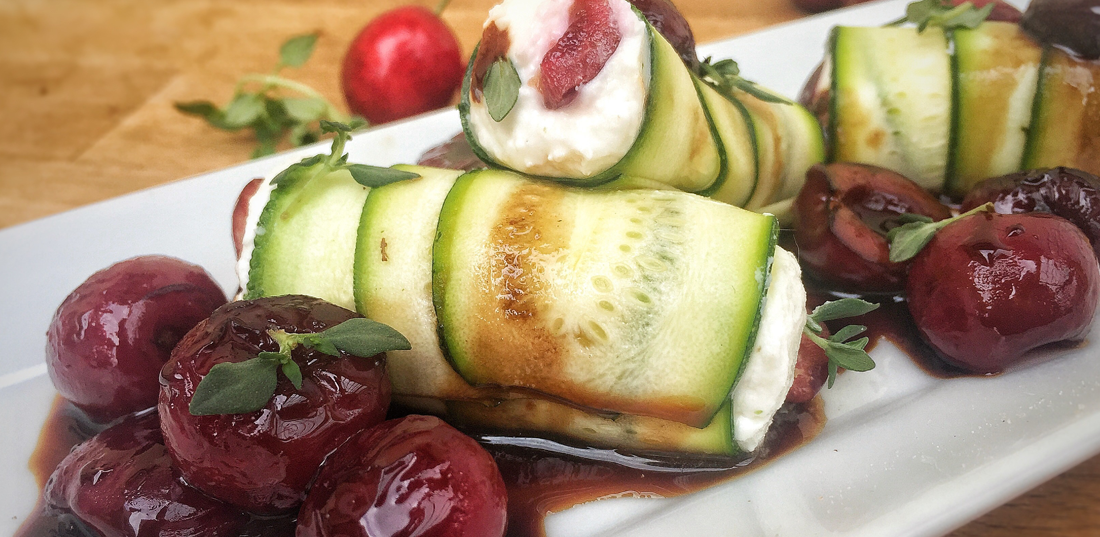 Ingredients
3 zucchini
100ml  Balsamic Vinegar of Modena PGI
200g fresh goat cheese
200g pitted cherries
Fresh thyme
salt
pepper
Italian extra virgin olive oil
Preparation
Clean the zucchini and chop off the ends. Using a slicer or the potato peeler, slice in thin ribbons for the whole length of the zucchini. The result will be a king of zucchini carpaccio, made of thin and long slices.
Cut in small pieces 50g of cherries.
In a bowl mix the goat cheese with 1 spoon of Balsamic Vinegar of Modena PGI, 1 tablespoon of oil, salt, pepper, the cherries in pieces and the thyme leaves.
On a work-surface arrange three slices of zucchini slightly overlapping, then a scant tablespoon of the goat cheese prepared as before, and gently roll the whole thing making a roulade. Repeat the procedure for all 12 rolls.
In a non stick pan sauté for a few minuted the remaining cherries, add the Balsamic Vinegar of Modena PGI and let simmer at medium-low heat stirring frequently, until reaching a syrup-like consistency.
Serve by placing the roulades in each plate and decorate with cherries flavoured  with Balsamic Vinegar of Modena PGI.
This dish can be served as a light main course or, in smaller portions, as an hors d'oeuvre or as finger food with the aperitif.
By using special care and attention in the way we cook, we can certainly help our body withstand the discomforts created by high temperature and prolonged exposure to the sun.
During the summer months is even more important to keep a balanced diet based mainly on fresh and natural foods, either cooked or raw as they may be, but not too processed and never too heavy, flavoured with light condiments such as Balsamic Vinegar of Modena PGI.
The secret is then to eat more often more digestible foods: fruit, vegetables and fresh cheeses, because they provide us with those essential elements that we loose with perspiration and loss of liquids.
So, let's enjoy dishes such as these tasty fresh light roulades that have also the advantage to be GLUTENFREE, therefore suitable for celiacs.