Light recipes, Main courses
Aubergine marinated with Balsamic Vinegar of Modena PGI and mint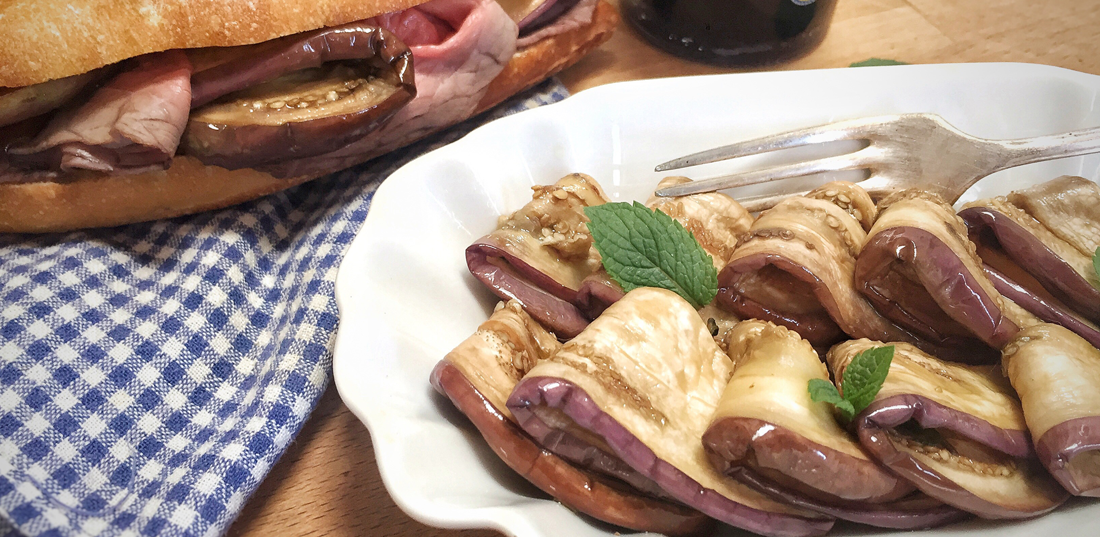 Ingredients
600 g aubergines
3 cloves of garlic
leaves of fresh mind
Italian extra virgin olive oil
Balsamic Vinegar of Modena PGI
salt
pepper
Preparation
Wash the aubergines, remove the stem and cut them vertically into slices with a thickness of about half a centimetre. If you use elongated aubergines with dark peel, it is better to arrange them on a slanted dish, sprinkle them with salt and leave them for 30 minutes with a weight on top to draw their bitter liquid out, then rinse them quickly with water and dry carefully.
Slightly oil the slices of aubergine and arrange them on a baking tray. Put in the oven for 10 minutes at 180ºC, possibly in convection mode.
In a small bowl, mix 10 leaves of mint, the cloves of garlic with the inside removed and cut into pieces, 6 spoonfuls of Balsamic Vinegar of Modena PGI, 2 spoonfuls of water, 6 spoonfuls of oil, salt and pepper.
Arrange the lukewarm aubergine slices in a bowl sprinkling each layer with the mint dressing.
Cover the bowl with cling film and put in a cool place for at least 2 hours before serving.
Aubergines marinated with Balsamic vinegar PGI and mint are an excellent side dish or vegetarian and vegan main course.
They can become an excellent one-course meal if used as a filling for a sandwich with thinly sliced roast-beef: a light, but nutritionally balanced meal also for a lunch at the beach.
Aubergines marinated with Balsamic Vinegar of Modena PGI can be kept 3/4 days in the refrigerator if sealed well and covered with additional oil and Balsamic Vinegar of Modena PGI.