Desserts
Cream ice-cream, strawberry sauce and millet brittle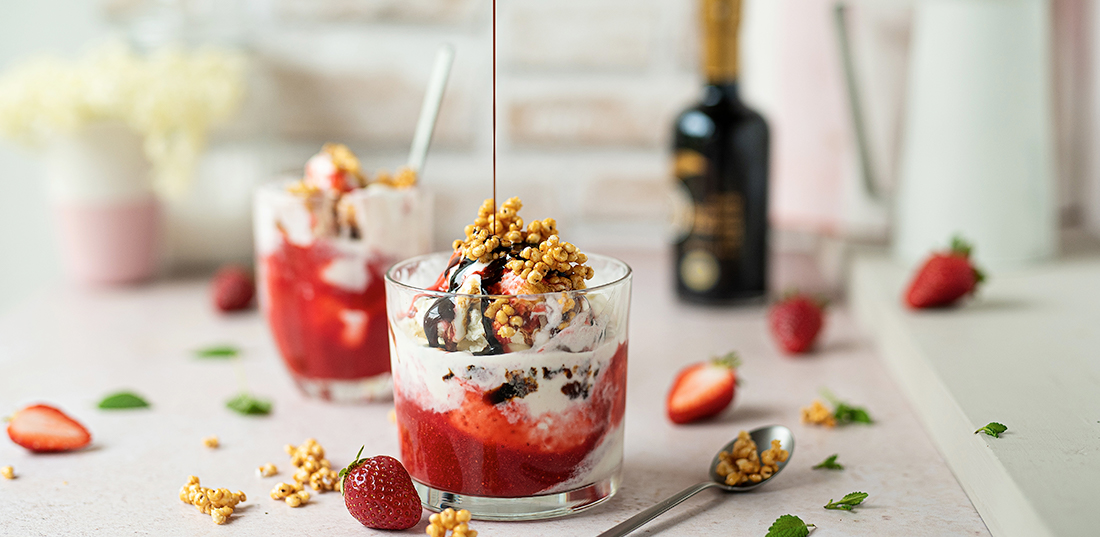 Ingredients for 4 servings
300g ripe strawberries
80g sugar
400g cream ice-cream
Balsamic Vinegar of Modena PGI
60g puffed millet or amaranth
80g sugar
Preparation
In a copper or aluminium pot, heat up the sugar with a spoon of water.
When the sugar starts caramelising, pour the puffed millet and stir quickly to coat all the kernels. Continue cooking over low heat whilst stirring until the kernels are nice and caramelised, well separated.
Spread them on a sheet of baking paper and allow to cool. Blend the strawberries with sugar and 1 spoon of Balsamic Vinegar of Modena PGI. Sieve the sauce.
Prepare the glasses pouring some strawberry sauce on the bottom, the ice-cream, another layer of strawberry sauce and a spoon of aged Balsamic Vinegar of Modena PGI. Finish with caramelised millet and serve.