Main courses
Lentil Buddha Bowls with Balsamic Vinegar of Modena PGI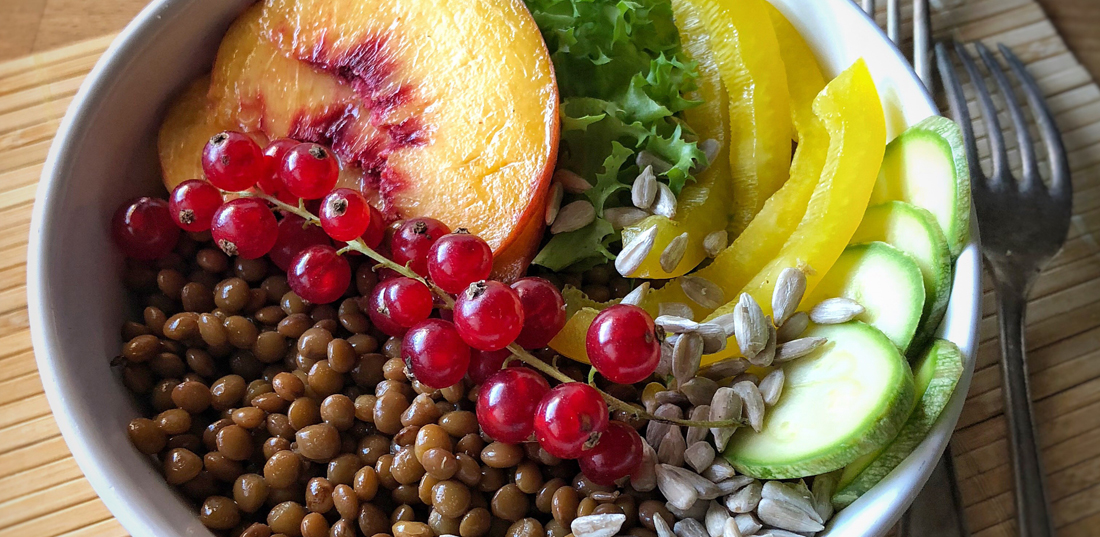 Ingredients for 4 servings
160g Colfiorito lentils
1 bay leaf
1 courgette
1 yellow bell pepper
1 peach
Frisee lettuce
Redcurrant
Sunflower seeds
4 tbsp Italian Extra Virgin Olive Oil
2 tbsp Balsamic Vinegar of Modena PGI
salt
pepper
Preparation
Cook the lentils in non-salted water with a bay leaf for about 25 minutes.
Drain the lentils, making sure to set aside the cooking liquid and let cool down.
Slice the peppers, remove the seeds and the pith.
Slice the courgette in thin slices, wash and dry the salad by patting it gently. Slice the peach in thin wedges.
Mix the oil with Balsamic Vinegar of Modena PGI and 3 spoons of the lentil's cooking liquid, salt and pepper to taste.
Season the courgettes with the dressing you prepared and divide into 4 bowls where you will set the lentils, topped with the vegetables and fruit and the sunflower seeds.
It's been some time now that Asian cuisine has reached our dinner tables. It has also popularized a food culture based on macrobiotic dishes and high value nutritional ingredients. The latest trend is the Buddha Bowl, a bowl with various types of ingredients of different colours, including raw and cooked vegetables, carbohydrates, proteins and cereals. A one-course meal with a truly special name, that makes everyone who hears of it curious to know more, and that is certainly based on the importance of healthy, neat and light eating without having to give up on nutrition and aesthetics.
There are no individual recipes, you can improvise different Buddha Bowls according to your taste or the seasonal availability of the products.