Desserts, Imma's recipes
Panforte di Siena scented with Balsamic Vinegar of Modena P.G.I.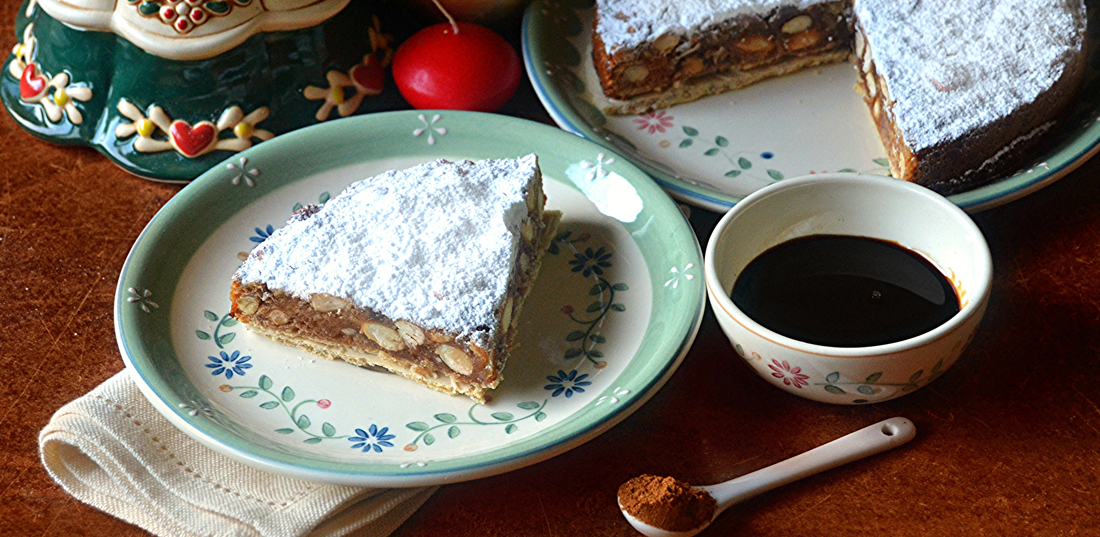 Ingredients
250g shelled almonds
100g candied orange small cubes
75g candied cedar small cubes
75g strong flour
1 teaspoon Balsamic Vinegar of Modena P.G.I
5g powdered spices
(coriander, nutmeg, cloves)
150g orange blossom honey
75g icing sugar
1 Montecatini wafer
Preparation
Roast the almonds for about 10 minutes at 150 degrees C. Place them in a large bowl and mix in the flour, the diced candied fruit, the Balsamic Vinegar of Modena P.G.I. and the powdered spices. Slowly melt the honey in a small pot together with the icing sugar and one spoon of water. Add this syrup to the almonds mix, fold all the ingredients thoroughly. The resulting mix will have a very firm consistency. Line a round 18 cm baking pan with baking paper and place the wafer in the centre; distribute the honey and almonds mix over it and spread it evenly with the back of a spoon. Cover the surface with the icing sugar. Bake the panforte at 180 degrees for about 30 minutes. Let it cool for a few minutes, then remove it from the mould and, once completely cold, cover it with a generous layer of icing sugar.