Foodblogger, Starters
Parmigiano Reggiano PDO baskets with Balsamic Vinegar of Modena PGI and pepper meatballs and basmati rice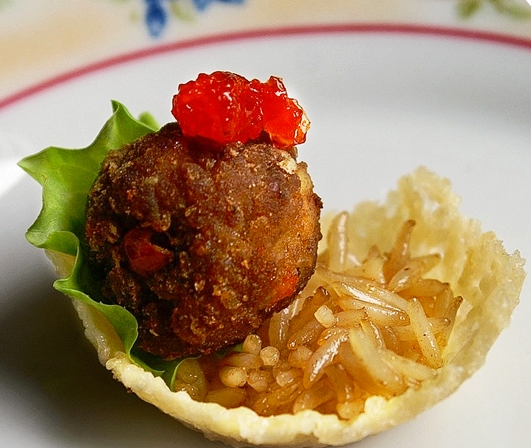 Ingredients
400 gr ground beef
1 medium potato, boiled and mashed
2 eggs
60 gr pepper
20 gr grated Parmigiano Reggiano PDO
Flour
100 gr Basmati rice
Balsamic Vinegar of Modena PGI
Oil to dress the rice
Salt and pepper to taste
Chilli pepper jam
A few small salad leaves
Preparation
Prepare the Basmati rice, according to the cooking instructions on the package, drain, place it in a bowl and let it cool. Coat it with oil and two or three tablespoons of Balsamic Vinegar of Modena PGI and put it aside.
In a rather large bowl combine the ground beef, eggs, mashed potato, Balsamic Vinegar of Modena PGI, two eggs, the pepper cut into very small dice, the Parmigiano Reggiano PDO cheese, salt and pepper. Mix everything very well with your hands, until you get a homogeneous mixture.
Shape into meatballs the size of a walnut, roll them in the flour and cook them in several batches in a wide pan with a drizzle of extra virgin olive oil: if they are as small as mine they will be cooked in 3-4 minutes. Transfer them to a plate covered with paper towels to absorb excess oil. Keep them aside.
Prepare Parmigiano wafers with Parmigiano Reggiano PDO cheese in a non-stick pan, and cool them over upside-down cases: to obtain the right size, I used the ones for mini-muffins. You need about 5 gr of Parmigiano Reggiano PDO cheese for each wafer.
As soon as everything is ready, you can assemble your baskets: put the wafers on the serving dish, to give crunchiness, then add a teaspoonful of seasoned Basmati rice, to add aroma, a small leaf of salad or lamb's lettuce, for freshness, one meatball, and finish off with a touch of chilli pepper jam, for a hint of spiciness.