Desserts, Imma's recipes
Ricotta tarts with sour cherry preserve and PGI Aceto Balsamico di Modena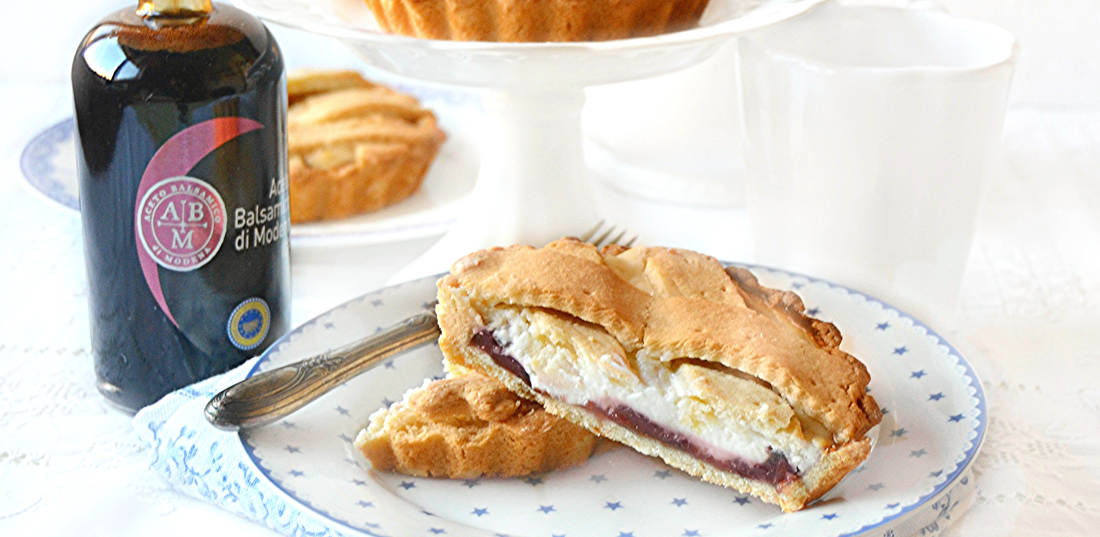 Ingredients for the short crust pastry
300 g of strong white flour
150 g of butter
100 g of sugar
1 egg + 1 egg yolk
Grated lemon zest
Ingredients for the filling
1 jar of sour cherry preserve
450 g of cow's milk ricotta
200 g of sugar
1 tsp of PGI Aceto Balsamico di Modena
(Balsamic Vinegar)
Preparation
Form a well with the flour on the work surface, place the sugar, eggs and grated lemon zest in the middle and begin to mix. At this point add the cold diced butter and keep kneading, gradually adding all the flour. Wrap up the pastry in cling film and leave to rest in the refrigerator for at least 30 minutes.
Take the pastry and roll out to 1 cm in thickness. Use to line the tart moulds; pierce the bases with the prongs of a fork. Place the ricotta and sugar in a bowl and mix until smooth and creamy. Pour the jar of preserve into a bowl and add the teaspoon of PGI Aceto Balsamico di Modena to the mixture and blend the two thoroughly.
Spread a layer of preserve on the bottom of the tarts, followed by a layer of ricotta. Use the remaining short crust pastry to make strips and cross them so they overlap one another on top of the ricotta. Bake in an oven preheated to 180° for around 25-30 minutes. Remove and leave to cool on a wire rack.