Foodblogger, Starters
Mince Pies à ma mode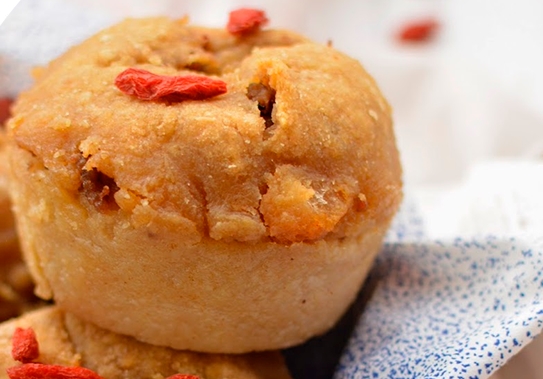 Ingredients
250ml water
2 tablespoons extra-virgin olive oil
500 g white spelt flour
salt
1 small onion
100 g Alto Adige Speck PGI
400 g mixed meat mince
30 ml apple brandy
2 tablespoons black mustard à l'ancienne (preferably home made)
2 tablespoons goji berry jam
1 tablespoon  pesteda seasoning
100 g Caciotta Maremmana cheese
Ingredients for the black mustard à l'ancienne:
100 g black mustard seeds
water
2 tablespoons honey
3 tablespoons Balsamic Vinegar of Modena PGI (Aceto Balsamico diModena IGP)
pinch Fleur de sel salt
Preparation
In a large pan bring the water and oil to a boil and then add the flour (previously sifted with a pinch of salt) all at once and mix vigorously on low heat to eliminate the lumps. When the dough starts to come together, remove the pan from the heat,  tip the dough onto a surface and knead briefly. Allow the dough to cool down while you prepare the filling: chop the onion and Alto Adige Speck PGI and sauté in a little oil. When you have obtained a creamy base, add the meat and sauté it.
Splash with the brandy and turn the heat up to allow the alcohol to evaporate. Remove from the heat, mix in the mustard, goji berry jam, seasoning and finely diced caciotta cheese. Roll the dough out to a thickness of approx. ½ cm. Use a 10 cm round cutter to obtain pastry disks with which you will line 8 lightly oiled pie pans. Spoon the filling in, then cut out 8  smaller disks and use them to cover the pies. Seal the edges well and slit a cross in the top of each pie.
Refrigerate for at least 1 hour; this will make the dough elastic and prevent it from breaking during baking. Bake at 180° for 45 minutes and allow to stand for ten minutes before gently removing the pies.
Preparation for the black mustard à l'ancienne:
Coarsely chop the mustard seeds, without grinding them into a fine powder. Pour the water in a thin stream and beat well with a fork to achieve a creamy consistency. Allow to stand for about half an hour, before adding the other ingredients.
Pour the mustard into hermetically sealed jars, refrigerate for at least 24 hours before using, to allow the bitter components of the mustard seeds to partially disperse.