Consortium recipes, Main courses
Sushi of deer filet with white polenta and gelatin made with Aceto Balsamico di Modena PGI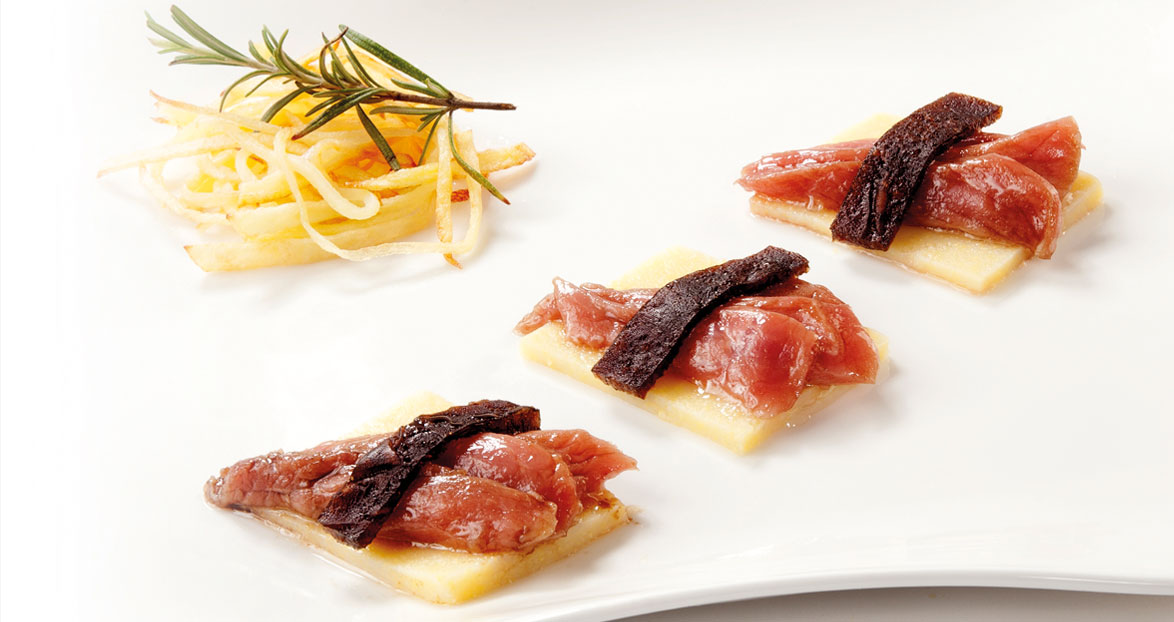 Ingredients
700g potatoes
300g white polenta flour
100g deer filet
100g salt
100g butter
10g rosemary
10g garlic
10g juniper
10g bay leaves (laurel)
10g chive
10g agar agar
10g pink pepper
500ml olive oil
500ml red wine
500ml Aceto Balsamico di Modena PGI
Preparation
Author: Majda Nabaoui
Take a pan and heat some oil. Add the garlic, the rosemary and bay leaves. Whet the oil is hot put the deer filet in and cook it leaving the inside raw
then marinate it with spices, salt, red wine and place in a sealed container.
In another pan heat about 1liter of broth with rosemary, salt and various spices. When boiling add 300g of white polenta flour and let it cook for 10 minutes, add salt, pepper and butter. Pour the polenta on a cutting board and let it cool.
Once it has cooled cut the polenta in rectangles and toast the triangles on a hot plate or oven to achieve the right consistency. In a pan heat the Aceto Balsamico di Modena PGI without boiling it and add the agar agar. Stir carefully to avoid any lumps then place it in a container and let it cool in the refrigerator.
Peel the potatoes and cut them with a Japanese vegetable cutter to create potato swirls (vortices), place them under cold water, heat some oil and fry the potato swirls. Remove the deer from the seasoning and cut like a tartar.
Serve by placing the toasted polenta as the base for the deer on top, tied with a gelatin strip made with Aceto Balsamico di Modena PGI, and finally add the potato swirls.