Light recipes, Main courses
Tuna Tataki with mango flavoured mayonnaise and Balsamic Vinegar of Modena PGI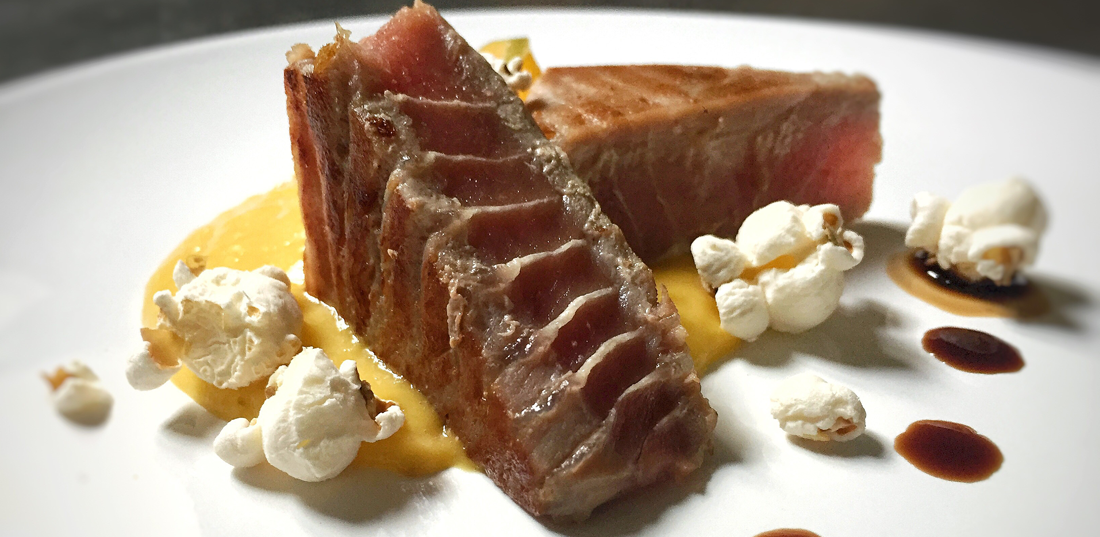 Ingredients (for 4 servings)
450 g tuna (2 slices 3cm thick)
1 rape mango
20 g Italian extra virgin olive oil
15 g Aged Balsamic Vinegar of Modena PGI
salt
30 g popcorn, better if home made
Preparation
Peel and remove the large pit from the mango, cut in large dices.
With a hand blender purée the mango flesh and add the extra virgin olive oil, a pinch of salt and the Aged Balsamic Vinegar of Modena PGI.
The sauce consistency shall be the one of a smooth, velvety and rather thick mayonnaise.
With a very sharp knife, slice 8 triangles of about 50g each.  Possible trimmings can be used for other preparations.
Heat a non stick frying pan and, when it is hot, place the tuna triangles and sear them quickly to brown the outside surface letting the inside be raw, then turn them  and repeat on the other side. This type of cooking called tataki, is a fish preparation technique use especially for tuna, or for meat typical of Japanese cuisine.
Plate by setting the mango mayonnaise with Balsamic Vinegar of Modena PGI in the bottom, then 2 tataki tuna triangles and top with some popcorn puffs.
Today the choice of light cuisine is a need that goes beyond the classic dietetic regime. Many consider light cuisine an approach solely intended for weight loss purposes, while a recipe ought to be also a beneficial for the body, not just an idea for the preparation of a low calories dish. Healthy cooking will satisfy the taste and not slow down digestion, while maintaining a correct metabolism and enhance our wellbeing. Using a few tips and touches, the flavour will not suffer.
The main principles of the Mediterranean Diet recommend to consume a portion of fish in three or four meals a week. For its taste and ease of cooking, tuna is the right choice of fish, as it can be prepared with simple quick recipes that do not require dexterity. A 100g portion is enough to meet proteins nutritional requirements for a meal. A different way to serve it combined with fruit and Balsamic Vinegar of Modena PGI.
This fast preparation is suitable for coeliacs as long as the pop corn be prepared at home.