Light recipes, Main courses
Vegetarian Sushi donuts with Balsamic Vinegar of Modena PGI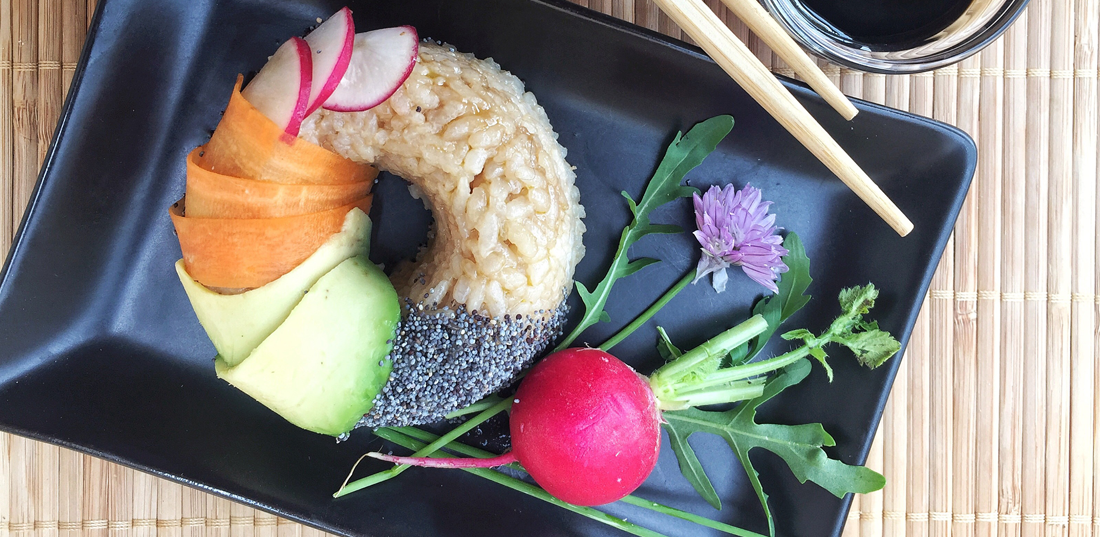 Ingredients
300 g sushi rice
450 g water
40 g  Balsamic Vinegar of Modena PGI
2 tablespoons sugar
1 teaspoon salt
1 rape avocado
1  carrot
radishes
poppy seeds
lemon juice
Aged Balsamic Vinegar of Modena PGI
Preparation
Rinse the sushi rice under running cold water, repeat until the water runs nice and clear.
Put the rice in a saucepan with lid and add the water needed to cook the rice. Cook on low heat, without mixing and without removing the lid, for 18/20 minutes, until the rice will be cooked through and all the water absorbed.
In the meantime, heat some Balsamic Vinegar of Modena PGI with 4 tablespoons of water and dissolve salt and sugar in it. Make sure it does not reach boiling point.
When cooked, pour the rice into a large bowl, drizzle all over with Balsamic Vinegar of Modena PGI and mix gently with a spatula;  use an up down movement to avoid breaking the rice grains.
Cover the bowl with a damp cloth until completely cold.
Peel and thinly slice the avocado, drizzle with lemon juice to keep it from going brown. Use a potato peeler or mandoline to slice the carrots lengthwise  into long ribbons; cut the radishes into rounds.
Divide the rice into 6 oiled donut moulds and using your fingers press well to compact the rice.
Instead of donut moulds, you can use small bowls to make rice domes and then make a hole in the middle to get a ring shape.
Unmould the rice, rest on a cutting board and cover neatly with avocado slices, carrot ribbons, radishes rounds and poppy seeds.
Use a  spatula to transfer the sushi donuts into a serving dish and serve with Balsamic Vinegar of Modena PGI and chopsticks.
Light cuisine should not be about eating a little sad lettuce,  a cup of yogurt and an apple. There are a thousand tasty alternatives, to help us keep in shape without affecting our mood and energy.
The key to the best recipes is always the same: just a few, easy to find, reasonably priced  ingredients that will please the eye and the stomach and provide the right nutrients.
The king of healthy foods is rice, a highly-digestible cereal that regulate gut bacteria. Its content of potassium and low sodium makes it suitable for people suffering from hypertension. Naturally gluten free, it can be consumed even by celiac sufferers. Boiled rice h as 130 Kcal per 100 grams and is rich in many nutrients. It helps to eliminate bloating and it has a lower glycemic index than pasta.
Rice is the featured in the famous light dish that has been introduced in our regular diet over the last few years: Japanese sushi.
These rice morsels garnished with raw or cooked fish, seaweed and vegetables, which are an integral part of traditional Japanese cuisine, have inspired many fusion versions:  sushi burgers, sushi cake and now sushi donuts. This new food creation is an alternative way of presenting the classic sushi.
An Italian version of vegetarian sushi donuts with Balsamic Vinegar of Modena PGI is an excellent light, pleasant alternative that can become past of our regular diet. Beautiful to present, but also very easy to make and absolutely delicious.