Consortium recipes, Desserts
Caramel mousse on a biscuit made of chocolate sable dough with soaked raisins and Aceto Balsamico di Modena PGI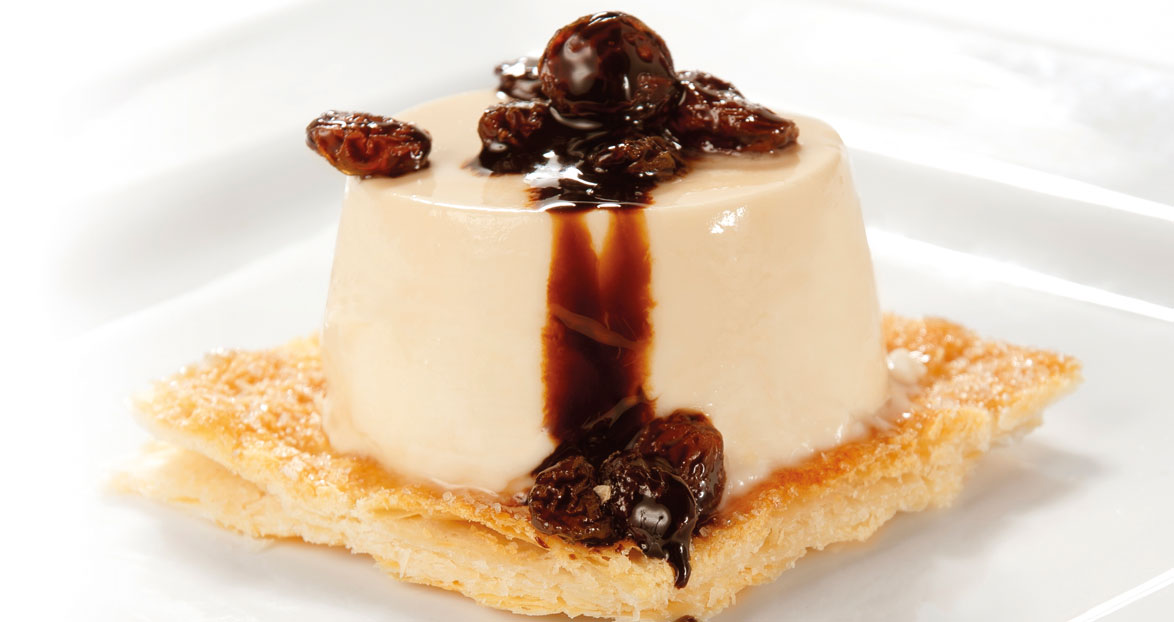 Ingredients
1000g flour
500g butter
450g sugar
400g granulated sugar
150g egg yolk
100g whole eggs
50g sultana raisins
1150ml isinglass
Cocoa
Heavy cream
20ml Aceto Balsamico di Modena PGI
Preparation
Author: Nicolò Ferraraccio
Melt the isinglass in cold water, meanwhile boil 550ml of heavy cream and caramelize 400g of sugar. Add the caramel to the heavy cream. Whip the eggs with the remaining 50g of sugar and incorporate them with the hot heavy cream.
Put it back on the flame and remove as soon as it starts to boil again, and add the previously melted isinglass.
Let it cool. Meanwhile, semi-whip the remaining heavy cream and slowly add it to the cooled mixture.
Pour into ramekins and let them cool. Decorate with sultana raisins previously soaked in an Aceto Balsamico di Modena PGI syrup and with a ristretto Aceto Balsamico di Modena PGI.
For the sable dough proceed like a regular pie shell. Place the mouse on the sable dough biscuit