Desserts, Imma's recipes
Charlotte with caramelised pears, chocolate and Balsamic Vinegar of Modena PGI glazing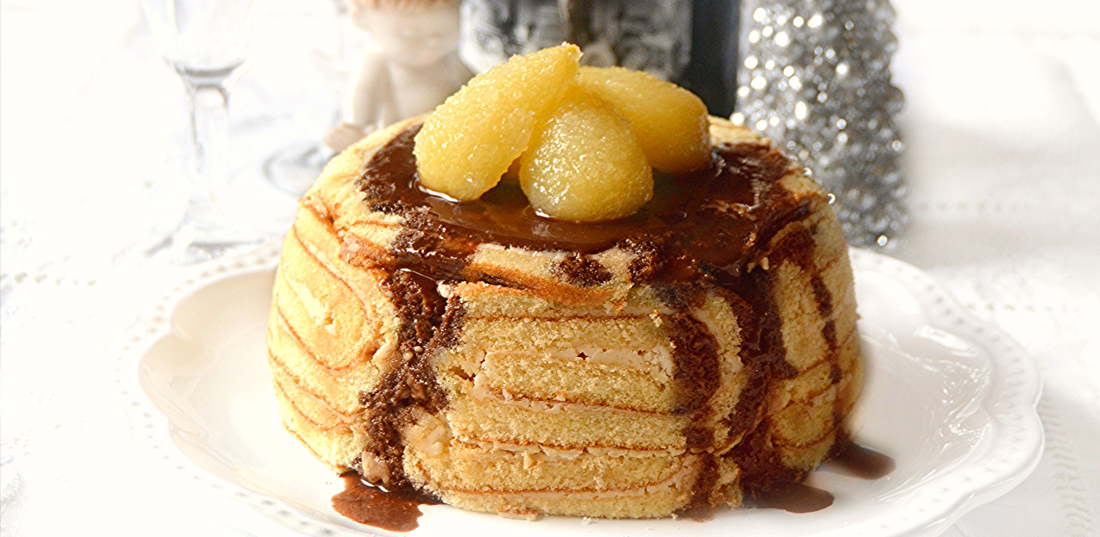 Ingredients for the sponge cake
3 eggs
140 g sugar
1 teaspoon of vanilla extract
80 g flour
1/2 teaspoon baking powder
a pinch of salt
100 g white chocolate
Ingredients for the chocolate and pear mousse
1 pack of canned pears
200 g dark chocolate
1 teaspoon of Balsamic Vinegar of Modena PGI
200 ml milk cream
4 tablespoons sugar
10 wafers of white chocolate
Ingredients for the chocolate and Balsamic Vinegar of Modena PGI glazing
100 ml milk
100 gr of plain chocolate
1 teaspoon of Balsamic Vinegar of Modena PGI
Preparation of the chocolate and pear mousse
Melt the chocolate baine marie with the Balsamic Vinegar of Modena PGI. Whip the cream with the sugar and gently add the melted chocolate and the pears cut into chunks (keep some pieces for garnishing).
Preparation of the sponge cake
Heat up the oven at 180°C. Whip the yolks with the sugar and vanilla. Add 3 spoonfuls of water. Add the sieved flour with the baking powder and mix to obtain an even compound. Whip the egg whites with the salt, then add gradually to the sugar mix using a spatula.  Lay the mixture on the baking tin lined with greased baking paper and cook for 15 minutes. Meanwhile melt the white chocolate baine marie, then spread it on the sponge cake; roll on the longer side, cover with cling film and put in the refrigerator to set.
Preparation of the chocolate and Balsamic Vinegar of Modena PGI glazing
Chop the chocolate a put it in a pot with the milk and Balsamic Vinegar of Modena PGI. Keep on the heat stirring until the chocolate has melted completely.
Composition
When the roll is cold and firm, cut slices of about half a centimetre; cover a small bowl with cling film.  Line the bowl with roll slices then pour the chocolate and pear mousse, and half of the crumbled wafers. Finish with roll slices, the remaining mousse, crumbled wafers and other roll slices.
Cover with cling film and leave to rest in the refrigerator for at least 6 hours (or in the freezer for 2 hours). Turn out the charlotte on a dish, remove the cling film and, before serving, top it with the Balsamic Vinegar of Modena glazing and the pieces of pear set aside.