Desserts, Imma's recipes
Chestnut cream meringues with Balsamic Vinegar of Modena PGI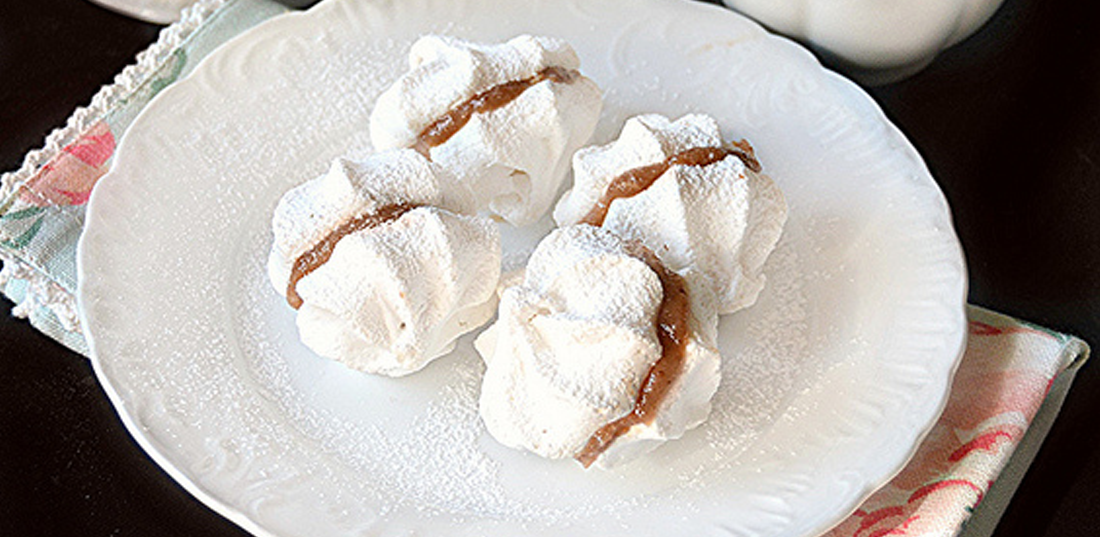 Ingredients
For the meringues
2 egg whites
40 g sugar
80 g icing sugar
1 teaspoon Balsamic Vinegar of
Modena PGI
For the chestnut cream
1/2 kg chestnuts
150 ml fresh whipping cream
300 g sugar
1 tablespoon Balsamic Vinegar of
Modena PGI
Preparation for the meringues
Start beating the egg whites with a pinch of salt and a teaspoon of Balsamic Vinegar of Modena PGI with an electric whisk, gradually add the mixed sugars, one spoonful at a time.
Continue beating for about 5 minutes until stiff and glossy. Line an oven tray with baking parchment. Use two teaspoons or a piping bag with star tip to form small round meringues.
Bake at 80°C (ventilated) or 100°C (static oven) for about 1 hour.  To allow the moisture to evaporate, open the oven door slightly a few times during baking. Allow the meringues to cool and then pair them with some chestnut cream in the middle.
PREPARATION FOR THE CHESTNUT CREAM
Make a slit on the rounded side of each chestnut then boil in a large pot full of water for about 10 minutes.  Drain and while still warm  peel and remove the thin skin. Chestnuts are now ready to be mashed through a vegetable sieve of potato masher. Place the thick paste you obtain in a small pot, gradually mix in the liquid cream in a trickle and cook on low heat. In another pot dissolve the sugar with a glass of water, bring to a boil while constantly stirring. When the sugar is completely dissolved add the chestnut puree and a tablespoon of Balsamic Vinegar of Modena PGI. This cream can be flavoured to taste with spices, liqueur or vanilla.
Notes
For a quicker preparation you can buy a jar of chestnut cream and mix in a tablespoon of Balsamic Vinegar until thoroughly blended.