Light recipes, Main courses
Quinoa salad with melon, arugula and milk flakes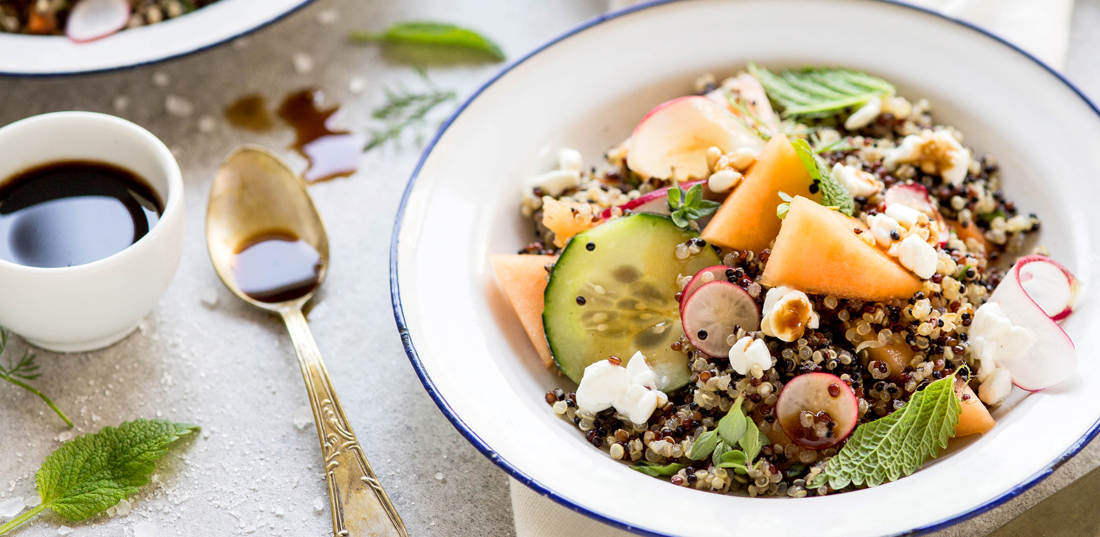 Ingredients for 4 servings
200 g mixed quinoa
150 g melon pulp
80 g cucumbers
3-4 radishes
1 small bunch of wild arugula or portulaca
150 g milk flakes
aromatic herbs (basil, thyme, parsley…)
extra virgin olive oil
salt and pepper
Balsamic Vinegar of Modena PGI
Preparation
Thoroughly rinse the quinoa using a fine strainer.
Put it in a casserole with double the amount of lightly salted water. Cook for 10 minutes from boiling, turn off the fire and leave to rest covered for 5'. Allow it to cool down in a large bowl.
Dice the melon, peel the cucumber and dice it finely.
Slice the radishes and break the arugula. Dress the vegetables and melon with salt, pepper, Balsamic Vinegar of Modena PGI and olive oil.
Add the quinoa and aromatic herbs in pieces.
Complete with the milk flakes, after draining them for 5 minutes in a strainer, and two spoonfuls of Balsamic Vinegar of Modena PGI.