Consortium recipes, Main courses
Bites of snapper over a cream of peppers with a hint of Aceto Balsamico di Modena PGI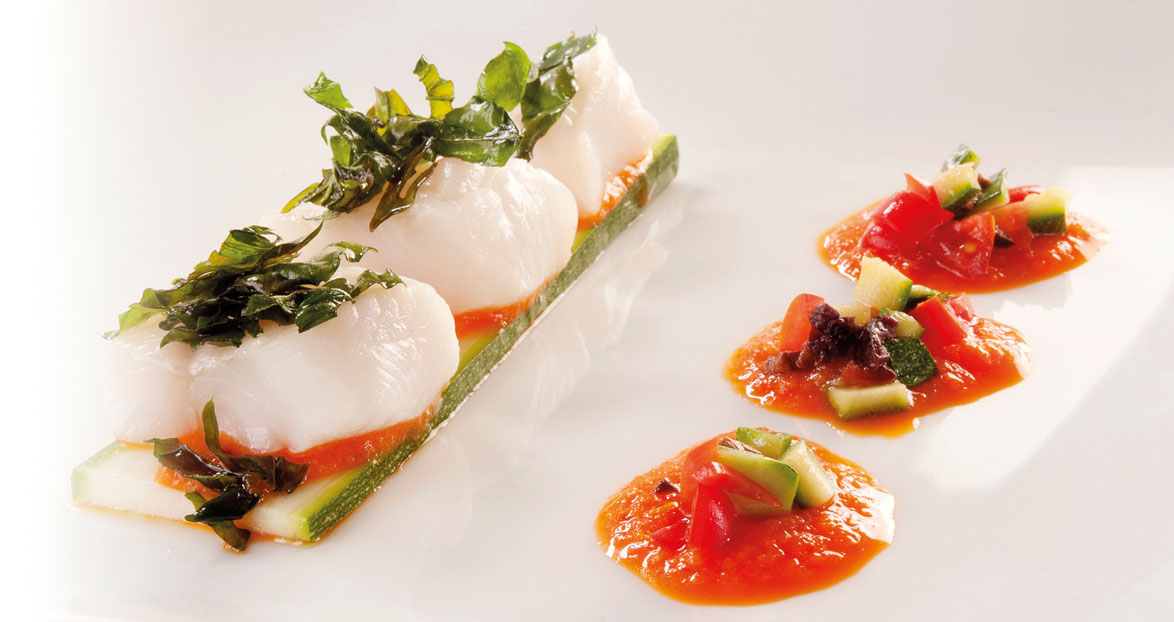 Ingredients
100 ml extra virgin olive oil
160 g filet of snapper with the skin
120 g red peppers
80  g zucchini
16g onions
20 g olive taggiasche olives
40 g cherry tomatoes
60 g lemon
15 g salt
21 ml extra virgin olive oil
5 g parsley
4 g basil
3 ml Aceto Balsamico di Modena PGI
3 g corn starch
0.5 g bay leaves
0.5 g tarragon
0.5 g black pepper in granules
0.5g cloves, 500ml Chardonnay
500 ml water
Preparation
Autore: Nicolò Soccio
Boil the water with the wine, half a lemon, bay leaves, salt, cloves and black pepper in granules. Meanwhile, cut (mirepoix style) the onion and the
pepper and cook them on a low heat in a pan with some oil for about 5 minutes.
Lightly fry a zucchini slice (cut lengthways). Prepare a brunoise with olives, zucchini and cherry tomatoes. Let them rest with a bit of oil, salt, chopped tarragon and parsley. Pass the peppers through the cutter and sifter. As soon as the water and wine come to a boil turn off the flame and remove the pot from the stove.
Cut the filet of snapper in cubes, about 3.5 cm in size, and place them in the hot water for a few minutes. Fry a chiffonade of basil in a wok with some oil. On a plate put the zucchini slice dipped in the cream of peppers, add four cubes of filet of snapper, pour a drop of Aceto Balsamico di Modena PGI on each cube and then add some of the fried basil. On the right side of the plate pour three spoons of the cream of peppers and lay the brunoise on top of it.