Main courses, Ricette d'autore
Duck ravioli with Aceto Balsamico di Modena IGP, ginger foam and potato cream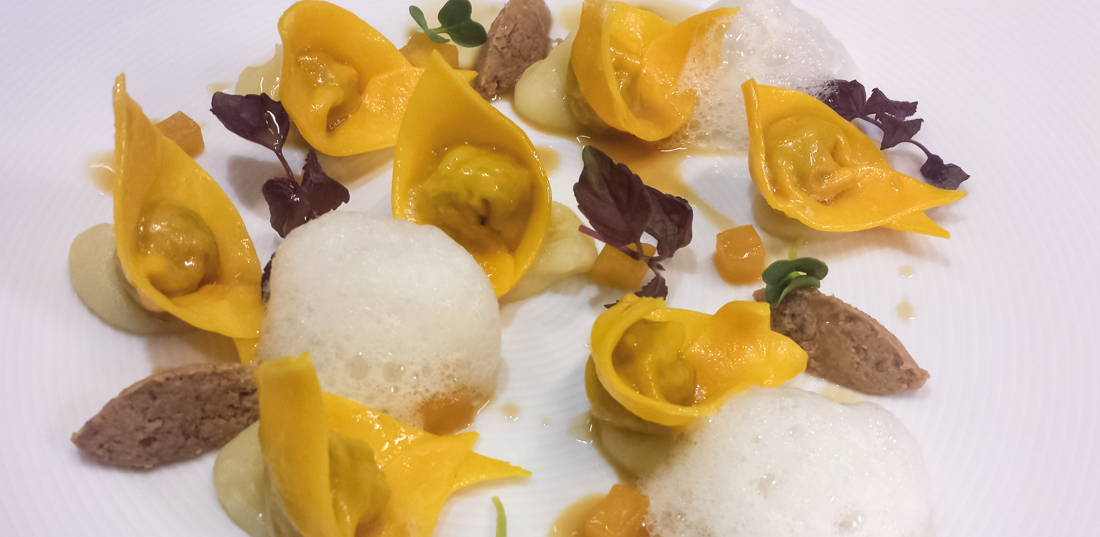 Ingredients
one gutted duck
half onion
1 small carrot
1 small stick of celery
Aceto Balsamico di Modena Igp
1 Gala type apple
ginger
2 potatoes
1 leak
soy lecithin
salt
pepper
sprouts
extra virgin olive oil
3 whole eggs
300 g flour
sugar
Preparation for the duck filling
Gut the duck well, bone and marinate it with Aceto Balsamico di Modena IGP for at least 12 hours. Add onion, carrot and celery duly cut; adjust salt and pepper. Roast in a wood burning oven inside a cast iron casserole with lid for at least 6 hours at about 100°C. When still hot, remove herbs and skin.  With the bone, prepare a classical brown stock. Chop the meat with a knife and mix it adjusting salt and pepper.
Preparation for the potato sauce
Boil the potatoes with the skin and sieve them. Separately, slice the leek and sauté it lengthily in oil, salt and vegetable stock, then blend and add this compound to the sieved potatoes.
Preparation for the foam
Melt the soy lecithin in water and chopped ginger. Leave to marinate for some hours and sieve. With a hand blender, blend to form a foam.
Preparation for the ravioli
Mix the eggs and flour for a long time; leave the dough to rest and roll out using a rolling pin. Shape the ravioli with the duck filling. Braise the ravioli in vegetable stock, salt and extra virgin olive oil for a few minutes.
Preparation
Arrange the ravioli in the dish, add some quenelles of warm duck filling, apple cubes caramelised in a bit of sugar, ginger foam and brown stock prepared with the duck bones.