RICETTE LIGHT
Enhancing velouté dishes, creamy vegetables and healthy dishes with Balsamic Vinegar of Modena PGI will be a triumph for wellbeing and for taste! Balsamic Vinegar of Modena PGI contains few calories, and its full taste allows other ingredients to be used in less quantity.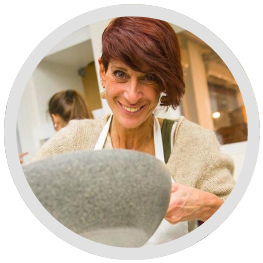 Monica Bergomi
"Love is like good food: special dishes come from simple ingredients, but it's the creativity that makes them magical ". This is how Monica starts her blog La luna sul cucchiaio (www.lalunasulcucchiaio.it), a collection of recipes she personally tried, where creativity is a central ingredient. The passion for cooking started when she was a little girl and today today is her  reason to travel. She learns the tricks of the trade from chefs and cooking courses then she practises at home, with her favourite utensil: her hands.
Licia Cagnoni
Licia has been an executive chef for more than 25 years. She started her career in Milan with Claudio Sadler, one of the most famous Italian chefs. Since then she has never stopped, broadening her professional skills also to publishing. In addition to traditional cooking courses and classes of natural cuisine, she collaborates with publishers to create and prepare recipes for cookbooks and recipe books. She has deepened her knowledge about vegetarian cuisine and has specialised as a teacher of healing macrobiotic cuisine and philosophy. She works as a food stylist with some of the best Italian photographers and as a consultant to set and design restaurant menus.